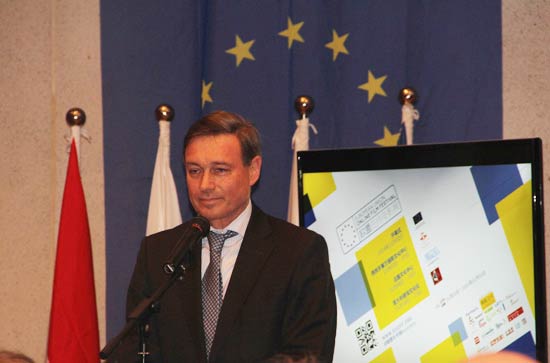 Hans Dietmar Schweisgut, EU ambassador to China
Investment agreement with china on table as 40th anniversary of diplomatic ties is celebrated
The fourth round of talks on a China-European Union investment agreement next month will touch on more concrete issues to ensure EU and Chinese markets are more open to investment from each other, says Hans Dietmar Schweisgut, the EU ambassador to China.
At a news conference on Feb 12 he said bilateral trade and investment between China and the EU will continue to be the focus of their relationship this year, during which the two will celebrate the 40th anniversary of diplomatic ties.
"What we want to achieve is forward-looking approaches to ensure better market access, better conditions for investment, better conditions for trade in services," Schweisgut said, adding that an instrument to do that would be the EU-China investment agreement. The first three rounds of negotiations on the agreement took place last year. 
In those rounds, both sides learned about each other's expectations, and now the time is ripe to begin discussing real issues, Schweisgut said. As long as both remain committed to negotiations, great achievements can be made, he said.
Schweisgut said there was progress on making trade easier, and a new customs agreement will take effect this year, which will make life easier for companies.
The relationship has come a very long way since 1975, Schweisgut said. At that time the EU had just nine member states, compared with the present 28. China was then just beginning to open up and had yet to undergo its economic transformation.
A joint statement by the ambassadors of EU countries in China issued on Feb 12 said: "Trade between (China and the EU) was minuscule. Now the EU is China's largest market and China is the EU's second-largest trading partner. This relationship has made us truly interdependent, in the sense that the success of one party is predicated on the success of the other."
Schweisgut said another element of growth this year relates to the EU-China 2020 Strategic Agenda for Cooperation. Both sides will strengthen collaboration in more areas, such as: international security, including defense; climate change mitigation; urbanization; sharing experiences about smart cities and more effective use of energy and water resources; strengthening collaboration on improving connections between China and the EU; and improving infrastructure and transport.
The most satisfying thing is that contacts between the EU and China in education, tourism and scientific and cultural exchanges are booming, Schweisgut said. Today 250,000 Chinese students are enrolled in European universities, and 40,000 Europeans are studying in China. That number is expected to grow, he said. EU countries have issued about 2 million tourism visas to Chinese visitors.
To improve such people-to-people exchanges, he said, a series of activities will be held this year to celebrate the 40th anniversary of diplomatic relations, including exhibitions from May to November in 18 Chinese cities that showcase EU innovations. "The Face of Europe", an activity to promote EU food culture, opens on May 6. EU films will feature in film festivals in Beijing and Shanghai; and there will exhibitions and events dedicated to EU higher education and international literature.