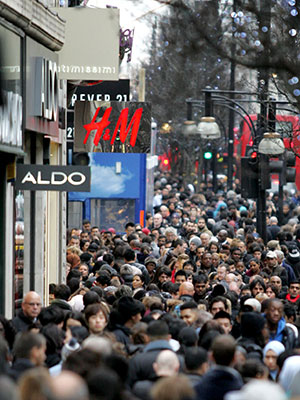 Shoppers in search of bargains in London. [Photo / China Daily] 
London retailers gear up to reap benefits of Chinese festival season
London's retailers are gearing up to attract Chinese shoppers for the Lunar New Year holiday with innovative marketing ideas and campaigns, many of which celebrate the Year of the Sheep.
Covent Garden, a trendy shopping and entertainment area in central London that is run by CAPCO Estate Management Team, has already begun hosting a campaign called the "Sheep Trial".
The campaign will encourage visitors to find a "hidden sheep" at 11 participating stores, snap a picture with it and post the photo onto Sina Weibo, the Chinese microblogging website, or WeChat, China's mobile social media service, for the chance to win a hamper worth 1,000 pounds ($1,540; 1,350 euros).
Inside the hamper will be a 150-pound voucher to spend in jeweler Cadenzza, a Hackett wool scarf, a candle from Penhaligon's and a pair of designer shoes from the United Nude collection.
The campaign runs until Feb 22.
Eleven other retailers at Covent Garden, including beauty, clothing, accessories and food stores, are celebrating the most important event on the Chinese calendar by offering customers discounts of up to 20 percent.
CAPCO Estate Management Team says Covent Garden welcomes thousands of visitors from China every year.
"Each year we see an increase in numbers over Chinese New Year. We are always looking at ways to improve the experience for our international guests. This new training initiative for staff across the district will enable us to better serve our Chinese customers," a CAPCO spokesperson says.
"We hope over Chinese New Year and beyond, our Chinese visitors will feel that they are getting the best possible service tailored to their needs in Covent Garden. We have always considered our Chinese visitors and worked to attract a mix of luxury and aspiring brands they want to see in Covent Garden, such as bringing in brands like Chanel, Burberry and Dior."
Other well-known brands in London are also launching Chinese New Year celebratory activities or products.
Luxury fashion brand Aspinal of London handed out hongbao, or red envelopes, filled with discounts at its Covent Garden and Brook Street locations from Feb 14 to 15. It also passed out red envelopes at its Chinatown and Leicester Square stores from Feb 18 to 19.
In Chinese culture, red envelops are filled with a small amount of cash and handed out during Chinese New Year to family and friends to promote luck during the festival season.
Aspinal of London is also offering a free heart-shaped key ring with a special Chinese New Year logo for customers who buy its products at the Brook Street or Covent Garden shops.