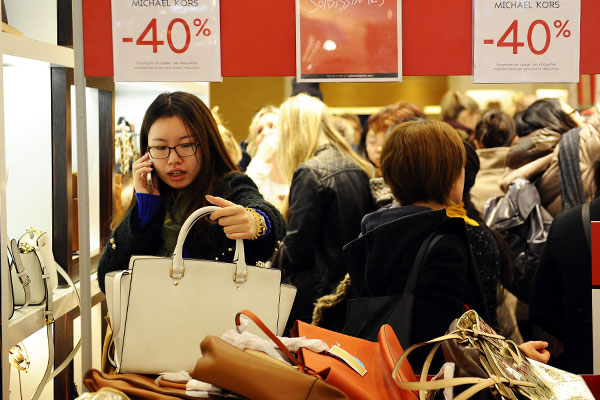 A woman inspects bags at Galeries Lafayette on the first day of the winter sales in Paris on Jan 8, 2015. [FREDERIC STEVENS/GETTY IMAGES]
City of Light combines its elan with special services to make elite customers from china feel at home
Paris is home to some of the world's most popular tourist attractions - the Eiffel tower, the Louvre and the Champs-Elysees - and also home to some of the world's most famous luxury labels.
In the French capital, world-famous department stores welcome Chinese shoppers with red envelopes, limited-edition goods, Mandarin-speaking staff and VIP services. Printemps and Galeries Lafayette, two of the most established and upscale retailers in the French capital, understand the importance of catering to the Chinese market.
Neither store discloses how much money Chinese tourists will spend or which brands are most popular among them, but these two stores are prepared for Spring Festival, the holiday built around Chinese New Year.
Printemps Haussman is holding a fashion show on Feb 26 to celebrate the new year, which fell on Feb 18, a department store representative tells China Daily, and there is a dragon dance performance. It has prepared special collections with certain brands, such as Dolce & Gabbana, that feature exclusive designs. Some brands are also offering gifts to those Chinese customers who spend a certain amount of money.
Paolo de Cesare, chief executive officer and chairman at Printemps, says 40 percent of sales come from overseas shoppers, who account for 20 percent of the store's total visitor number. Chinese customers account for half of its overseas shoppers. A Chinese lady made the single biggest purchase at Printemps in 2014. Cesare will not say how much she spent, only that it was a very large amount. "We celebrate Russian New Year, but not on this scale. No one can compete with Chinese New Year celebrations. They're definitely the largest," says Cesare.
Galeries Lafayette, in addition to maps and signs in Chinese, also has special collections to celebrate Spring Festival and is hosting parties so that French shoppers can learn more about the occasion.
Less than an hour away from the ornate facades of Printemps and Galeries Lafayette is La Vallee Village, an outlet mall specializing in the sale of discounted designer brands. La Vallee is run by Value Retail, the same company that runs the wildly popular Bicester Village in the United Kingdom.
The French development in Serris, Seine-et-Marne, features red signs and promotions wishing Chinese customers a happy Spring Festival. There are benefits for Chinese customers, who can use their red envelopes for an additional 20 percent discount on certain brands and to gain entry to a temporary salon for a drink of hot chocolate.
Marisa Minelli, senior tourism manager at La Vallee, says Chinese customers form the biggest group among its overseas visitors. Half of the mall's sales are from foreign tourists, with the Chinese accounting for between 35 and 40 percent of this group. A VIP room is available for Chinese customers. "They only stay for five minutes, then they run for shopping. They appreciate that we have this delicate attention and service. But at the same time, they don't have a lot of time to rest because they want to shop and shop," Minelli says.