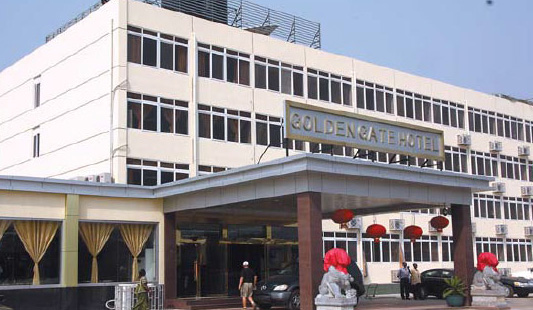 Golden Gate Hotel, which has a number of outlets across Liberia and Nigeria, generates about 100 million yuan ($16 million) in revenue annually. [Photo provided to China Daily]
Ebola epidemic fails to chase away the Chinese owner of Monrovia business, who says decades in Africa have taught him many valuable lessons
For Hu Jieguo, who has been doing business in western Africa for more than three decades, 2014 turned out to be an unusual year.
He is the owner of Golden Gate Hotel, located in Monrovia, capital of Liberia, the country hardest hit by the Ebola epidemic.
The city has become a forbidden area for most foreigners since the outbreak of the disease, a factor that might make most hoteliers shut down their business.
However, in October his hotel welcomed 160 medical experts sent by the Chinese government to fight Ebola.
"Apart from the basic accommodation, I also provided local transport, food, telecommunications and even a sports training ground for them, because I know it's very important to let them adapt to the local environment as soon as possible. The disease doesn't wait," Hu says.
"As a hotel owner, I want to contribute my effort to this fight, and the only thing I can do is to ensure the logistics from my side."
But while Hu's primary business is hospitality, it is not Liberia but Nigeria that has been his main business focus over the years. His long experience in Africa has given him a broad and deep education on how to do business on the continent.
"I came to Nigeria from Shanghai in 1978. My father had been living in the country for more than two decades. He was a leader in the local Chinese community," he says.
It was a golden time for oil and gas exploration in the country and people from outside were queuing to join the industry. There was a severe shortage of hotel space. Hu's father bought a sightseeing cruise with accommodations in 1975, which is when the family entered the industry.
Hu says that after decades, more than a hundred hotels of different category have been set up in the country's economic hub, Lagos, and its capital, Abuja. He has four hotels in Nigeria and Liberia, and another is being constructed in Ghana.
"For me, the hotel industry has a special meaning. That is to enhance mutual understanding between two peoples," he says. "When two cultures are too different from each other, we must talk and communicate to understand each other better. I think a hotel is a very realistic and good place to start."
In 1983, his first related business, a restaurant, opened in Lagos. He says his place was called Shangri-la, located on the top floor of the largest and best hotel of the city, and occupied more than 700 square meters.