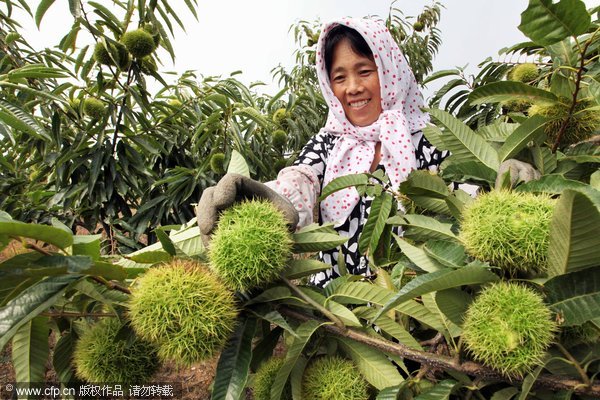 Farmer picks chestnuts in Xiajiagou county in Lianyungang city, East China's Jiangsu province, Aug 22, 2014. [Photo/CFP]
The introduction of social capital will play an important role, said CASS researcher Li Guoxiang.
The fourth major task is to deepen rural reforms.
More efforts will be made to establish a new-style agricultural management system, accelerate reforms of rural collective property rights system, steadily push forward pilot reforms of rural land system, carry out rural financial system reforms, and deepen water conservancy and forestry reforms.
It urged guiding land management rights to flow in an orderly way and raising the scale of agricultural production.
Rural reforms will reinvigorate the countryside by awakening the "sleeping" resources like farmland and capital and making them flow in an orderly and reasonable manner, said Ye Xingqing, a researcher with the Development Research Center of the State Council.
Fifthly, The document calls for improving agricultural and rural legal system to strengthen the rule of law in dealing with issues such as protection of rural property rights, regulation of rural market and rural reforms.
The document for the first time noted the importance of rule of law and it is the strengthened rule of law that will ensure rural reforms be carried out smoothly, said Zheng Fengtian, an agriculture professor at Renmin University of China.