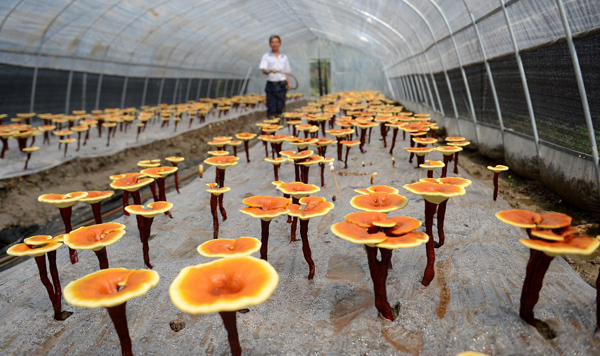 Ganoderma fungi, which are used for medicinal purposes, grow at an ecological park in Nanchang, Jiangxi province. The mushrooms have a market price of 800 yuan ($129) per kilogram, June 12, 2014. [Photo / Xinhua]
BEIJING - China's Ministry of Finance announced on Wednesday that it allocated 12.69 billion yuan ($2.08 billion) to subsidize agricultural insurance in 2013.
The figure was six times that of 2007, the year when the subsidy program was first piloted in six provinces and regions, involving five planting species.
The program now covers the whole country and 15 species in planting, livestock breeding and forestry.
The agricultural insurance sector pocketed 30.67 billion yuan in premiums from 214 million clients last year, when it provided 20.86 billion yuan in compensation to 33.67 million clients.
The ministry has also been boosting financial support for the disadvantaged groups, including the handicapped and poor rural residents. It allocated 9.54 billion yuan to subsidize small loans to such groups in 2013.