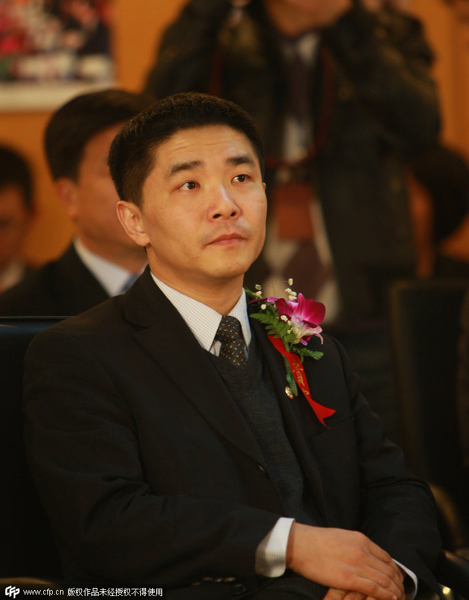 Mao Xiaofeng, president of China Minsheng Banking Crop [Photo/CFP]
Ex-Minsheng president investigated in connection with fallen adviser Ling
The head of China's biggest private lender has resigned after reportedly being implicated in the corruption case of Ling Jihua, a former senior political adviser.
China Minsheng Banking Corp said its president, Mao Xiaofeng, resigned for personal reasons after news reports that said he had been taken away for investigation by China's top anti-corruption watchdog.
Mao, 43, one of the youngest bank chiefs in China, was held by the Central Commission for Discipline Inspection earlier this week, less than half a year after he was named chief of the bank.
Mao was said to have offered Ling's wife a job for three years at Minsheng Financial Leasing, a joint venture of China Minsheng Banking Corp Ltd and Tianjin Port Free Trade Zone Investment Co, said an insider who requested anonymity.
The insider said Minsheng, also known as the "high-ranking officials' spouses club", had provided jobs to the wives of more than 10 senior officials.
Yu Lifang, the wife of former senior political adviser Su Rong, has worked in Minsheng for a long time and has been hired as the director of the board's bank audit committee after her retirement.
According to the insider, Mao was implicated in the downfall of Ling, who developed a "Shanxi gang", a political faction that sought illicit wealth from government sources and State-owned assets.
Before being brought down in December on corruption charges, Ling was vice-chairman of the National Committee of the Chinese People's Political Consultative Conference, China's top political advisory body, and head of the United Front Work Department of the Communist Party of China's Central Committee.
Ling's former position as the head of the General Office of the Communist Party's Central Committee is comparable to that of the US White House chief of staff.
Su, 66, the then vice-chairman of the Chinese People's Political Consultative Conference National Committee, was probed on June 14 on corruption charges.
As a mid-sized bank, Minsheng has made its name as the biggest private lender to small private businesses. Anbang Insurance Group recently became Minsheng's largest shareholder through a series of share purchases on the secondary market.
The bank posted a statement on its website on Saturday saying that it was aware of the reports concerning Mao and that the bank's operations were being conducted as usual.