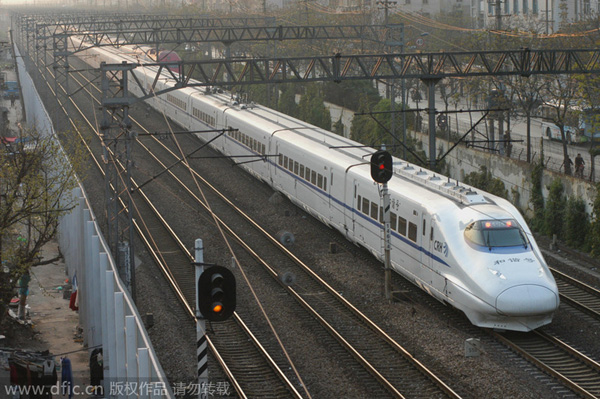 A CRH (China Railway High-speed) train runs on the rail in Shanghai, April 8, 2009. [Photo/IC]
The Chinese government said on Monday it hopes the Mexican government could properly deal with the problems caused by the suspension of it high-speed rail project.
The comment came after the Mexican government announced to indefinitely suspend the high-speed rail project linking Mexico City with the industrial hub Queretaro.
"We feel really sorry about the decision. Chinese companies have spent enormous efforts in bidding for the projects," the NDRC said in a statement.
The Chinese side hopes the Mexican government could effectively protect the legitimate rights of the Chinese companies and adopt active measures to promote pragmatic cooperation between the two countries, said the statement.
China Railway Construction Corp and several Mexican construction firms, whose original winning bid said they would bid again for the $3.75 billion project, after the Ministry of Communications and Transport of Mexico said it would relaunch bidding for its first high-speed railway in mid January.
Related stories:
Mexico to reveal rail bid winner in July
New bidding result of Mexico's high-speed train project will be announced on July 31, after the Latin American country re-launched the bidding on Jan 14, Xinhua reported Saturday.
Five companies, including one from China, are bidding for the project in the new round, said Mexico's Ministry of Communications and Transportation on Friday.
Minister Gerardo Ruiz Esparza said that besides China, the other four are from Canada, France, Spain and Italy, but he declined to disclose detailed information about the bidders, according to Xinhua.
China Daily had earlier reported that French group Alstom and Canada's Bombardier are also reportedly planning to enter the new bid.
The Chinese bidder is a China-Mexico joint consortium, formed by China Railway Construction Corporation and several Mexican construction firms, Xinhua had earlier said.
The China-Mexico joint consortium won the $3.75 billion high-speed rail project last November, but Mexico abruptly cancelled the deal days later.