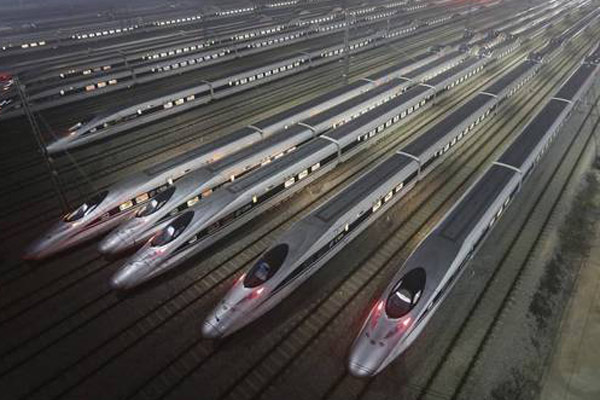 CRH380 (China Railway High-speed) Harmony bullet trains are seen at a high-speed train maintenance base in Wuhan, Hubei province, Dec 25, 2012. [Photo/Agencies]
A Chinese-led consortium plans to retender for Mexico's $3.75 billion high-speed rail project, after the Latin American nation abruptly cancelled its earlier win, according to sources close to one of the firms involved.
Mexico revoked the contract awarded to the consortium, made up of China Railway Construction Corp, CSR Corp and four other Mexican firms, on Nov 7 after opposition lawmakers claimed it was fixed. The consortium's bid was uncontested. The country said it would re-run the tender later under the same terms.
"Will we continue to bid with CRCC? - that is a definite yes," said an official from CSR on Friday, who only wanted to be identified by his surname Xu.
A separate source close to the Chinese bid said CRCC was definitely going to tender again.
Xu declined to say whether the Mexican partners would remain in the consortium.
CRCC was "exceptionally shocked" by the cancellation of the contract and said it was looking at legal action to protect its rights.
The consortium has received a compensation of more than 100 million yuan ($16.27 million) from Mexico, said Wang Mengshuo, deputy chief engineer of China Railway Tunnel Group, to Beijing News.
According to the news, the contract revoke should be compensated by no more than 1 percent of the bid price, which equals to $44 million. The spokesperson of the CRCC declined to comment on the compensation.