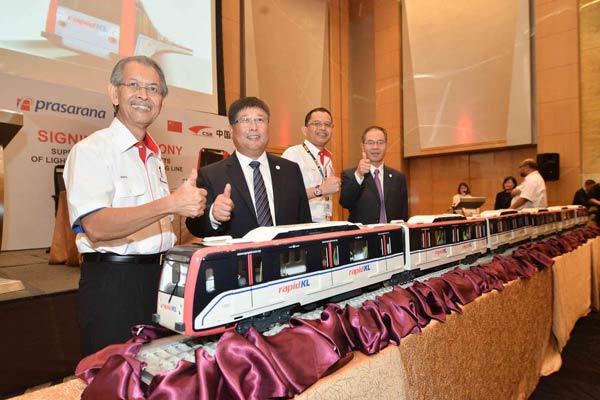 Zhou Qinghe (2nd from left), president of CSR Zhuzhou Electric Locomotive Co, looks at a model train in Kuala Lumpur, Malaysia, Oct 21, 2014. [Photo/Xinhua]
Malaysia's new 200-kilometer high-speed rail line between the capital Kuala Lumpur and the city of Ipoh to the north, will feature the world's fastest inter-city bullet trains by the end of next year, built by China's CSR Zhuzhou Electric Locomotive Co.
The meter-gauge electric units will run at a set speed of around 160 km per hour, said Zhou Qinghe, president of CSR ZELC. The trains will also be used on a 900-km railway line being planned between Johor Bahru on the southern tip of the country, and Padang Besar on the Thailand border, according to the train manufacturer.
After the first batch of 10 trains produced in China are delivered, Zhou said trains of the same type will then be manufactured at a new manufacturing base being built in Malaysia.
A subsidiary of China South Locomotive and Rolling Stock Co, considered the world's largest manufacturer of electric locomotives, CSR ZELC began its involvement in Malaysia in 2010 and 38 of its electric trains are already running in Kuala Lumpur.
The company announced in April it was spending $131 million on the building of a manufacturing and maintenance base to serve the needs of the country, as well as the whole ASEAN region. It has signed five contracts to supply 98 trains and carriages, the first phase of which will be completed by the end of this year.
"Our manufacturing capabilities in Malaysia are based on our market share in the country, and its geographical location," Zhou said.
"This relatively developed infrastructure can help us further develop in neighboring markets too, such as Singapore, Indonesia, Thailand and the Philippines."
Zhou said CSR ZELC will cooperate with its Malaysian partners on various aspects including financing, construction of transportation facilities and other turnkey contracts as well as the transfer of advanced technology and management methods.
"Because most Southeast Asian countries-as well as India and Latin American nations-have just begun to build new railway lines or buy new trains they are keen to acquire technological support from China to assist in daily operations, maintenance, staff training and other services," said Lin Wenjun, head of CSR ZELC's department of EMU development.
Zhao Jian, a professor of rail transportation at Beijing Jiaotong University, said plans by Singapore and Malaysia to build high-speed rail links mean countries in Southeast Asia can expect to have as sophisticated a network as Europe, for instance, which could in future connect to China's Yunnan province or Guangxi Zhuang autonomous region.
Zhou predicted that Southeast Asian countries would need 1,100 new rail cars and refurbishment facilities for another 700 in five years.