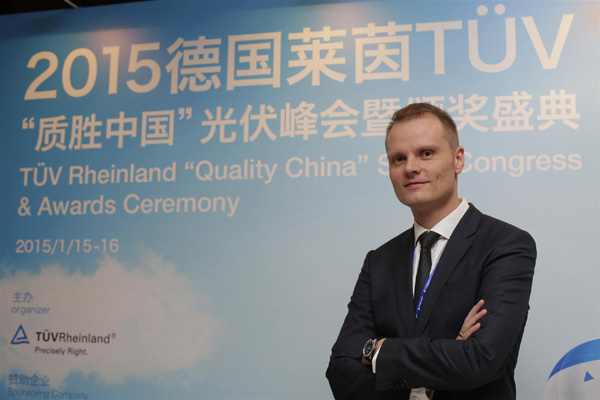 Robert Struwe, vice president of solar and fuelcell technology of TUV Rheinland in China. [Photo provided to chinadaily.com.cn]
Instead of talking about market and price, quality was the key word at the 'Quality China' Solar Summit in Changzhou, Jiangsu province, which was held on Jan 15 and 16 and hosted by German testing and certification company TUV Rheinland.
The event, designed to offer companies and researchers chances to share opinions and exchange ideas about photovoltaic system quality, attracted attentions from counselors of the State Council such as Shi Dinghuan and almost industry leading companies such as Yingli Group, Trina Solar and Huawei.
"PV plant installation increased significantly in 2014, which suggests China is not only a manufacturing giant but also a world leading PV plant installer," said Shi Dinghuan, on Jan 16.
"Production capacity should not be the only factor considered by businesses because the industry is looking to have rational development," said Shi.
China installed a 10.58GW PV plant in 2014 and has projected to install 100GW photovoltaic systems during its 13th Five-Year Plan. By the end of 2014, China has a total of 30 GW PV plant systems connected to the grid.
In June 2014, a report prepared by Hanergy Group Holdings and the China New Energy Chamber of Commerce showed that China has overtaken Germany to become the largest solar power producer in 2013.
The Chinese solar industry has experienced a prolonged downturn since 2011 due to overcapacity and a tough foreign trade environment. In the most difficult period, the number of solar panel producers fell from 262 in 2011 to 112 in 2013, according to Wang Bohua, of the China Photovoltaic Industry Alliance. As a result, companies have been paying more attention on quality after this crisis, rather than quantity.
"Before 2011, companies were paying less attention on quality and more on quantity. However, quality became more important after 2011 because the whole industry is since facing a crisis caused by overcapacity," said Zhou Wei, quality control vice president of Trina Solar in Changzhou, Jiangsu province.
Experts said the lack of an effective quality control mechanism, low price competition, introduction of new materials and a relatively short production history were main causes of quality problems in China and call on more national quality standards to be implemented to support industry growth.