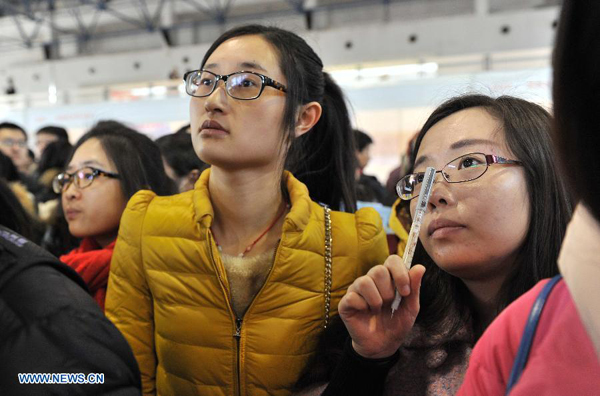 Job seekers look at employment information at a job fair for postgraduates in Beijing, capital of China, Dec 18, 2014. About 18,000 opportunities were offered at the fair.[Photo/Xinhua]
Multinational companies' increased interest in the Chinese market and the rapid expansion of domestic companies will boost job prospects and salaries in the country this year, a new survey said on Wednesday.
According to the Salary Survey 2015 released by global recruitment specialist Robert Walters, Chinese employees who plan to change jobs in 2015 can expect their salaries to go up by 15 to 25 percent on average, while those who choose to stay may see wage increases of about 6 to 8 percent.
Employees in Beijing working in industries like accounting and finance, human resources, and marketing can expect a 20 percent growth in wages if they opt for a new company. Professionals working in sales, as well as in engineering-related research and development sectors are likely to see their salaries increase by up to 30 percent.
Employees in Shanghai can expect salary increases of around 20 percent if they are looking for new opportunities in sectors like finance and accounting, banking, human resources, information technology and sales.
The survey expects pharmaceutical and chemical industries to be the top hirers this year, with employees working in the operations and manufacturing sectors of these two industries expected to realize salary hikes of about 30 percent if they switch to another company.
Sales professionals in the luxury industry will see little growth in salaries this year due to the industry stagnancy.
Even though the rising salaries of Chinese professionals have prompted concerns about rising labor costs in China, Alistair Cox, chief executive officer of global recruitment firm Hays Plc, said it is needless to worry about the fewer opportunities. On the other hand, Cox finds it a good signal as the economy is becoming more developed, people are getting more disposable income and standards of living are improving.
"There is a massive domestic market as well, which in many ways is under-leveraged," he said.
Though the number of employees planning to switch jobs is set to drop slightly from the level seen in 2014, it still remained quite high, with over 71 percent of the 2,448 respondents keen on a change.
The competition for qualified talent, preferably those with overseas working experience, solid knowledge of the domestic market, and higher bilingual proficiency, will be even more intense in 2015 among multinational companies, aggregated by the fact that a growing number of multinational companies are moving their regional headquarters to first-tier cities, said Wang Qiang, managing director of Robert Walters China.
Domestic companies are not lagging behind. In order to hire qualified candidates, a large number of them are providing competitive salaries and compensation packages, as well as equity incentive plans. As a result, some experienced professionals have given top priority to domestic companies, said Wang.