Recent graduates lower expectations in tight job market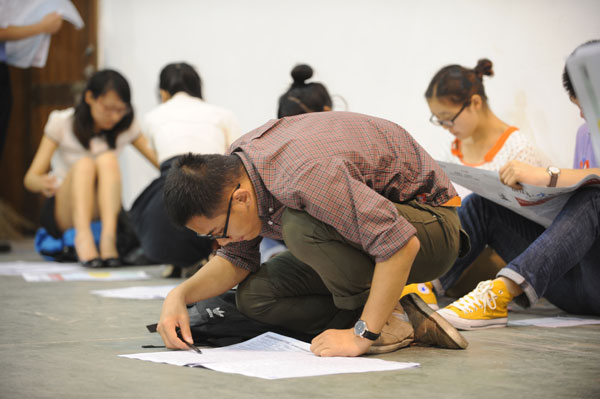 A college graduate looks at a job listing during a job fair on June 7 in Hangzhou, capital of Zhejiang province. The fair was exclusively for 2014 college graduates. Hu Yuanyong / for China Daily
Chinese graduates are experiencing less pressure to find work, in part by adopting a more realistic approach to an increasingly tight job market, according to a new employment report.
The employment pressure on the graduates fell significantly this year from that of 2013, according to the report released by the Beijing Youth Stress Management Service Center.
The report was based on a study of 8,193 university students across the nation in May.
The number of college graduates will reach a record 7.27 million this year, up from 6.99 million in 2013, according to the Ministry of Education.
The pressure of finding work among job seekers peaked in 2013 but fell this year, according to the report.
"Higher job expectations often bring about greater employment pressure, but reasonable and tempered expectations would lower the pressure," said Xiong Hanzhong, the director of the center.
Xiong said that graduates have adjusted their job expectations after one of the most difficult employment seasons last year.
"They are more rational and practical, and they have reasonable demands for salary, workplace and position," he said.
Xiong added that "reasonable and reduced" salary expectations might be one of the main reasons behind the lower employment pressure.
The government has also been paying much attention to employment this year, putting forward many measures and bringing many job opportunities to graduates, so their employment stress might be reduced because of that as well, he said.
Li Ang, deputy director of the stress management center and a psychologist, said graduates' employment stress comes mainly from their families, but that greater understanding and support from their parents have also contributed to the lower pressure.
Meanwhile, expected monthly salaries hit a high of 5,537 yuan ($892) in 2011, but the figures have been falling ever since - to 4,592 yuan in 2012, 3,683 yuan in 2013, and 3,680 yuan, a record low, this year, industry figures showed.
"My anticipated salary each month is only 3,000 yuan, but my upcoming employer is giving me about 6,000 yuan. I'm surprised and excited," said Li Yingyan, 24, who graduated this year from Communication University of China in Beijing.
Li has received an offer from a media company in her hometown of Fuzhou, the capital of Fujian province.
"In the beginning, I leaned toward finding a job in Beijing, but I found that employers preferred to hire male employees and I failed. Besides, housing prices in Beijing are high and I want to stay with my parents."
Li lowered her job expectations and chose to return home after graduation.
"I'm more relaxed and I'm satisfied with my job," said Li.
Li Ang, the service center deputy director, said: "More graduates prefer to work in second-tier cities. About 50 percent of those interviewed said they would like to work in provincial capitals, but less than 20 percent of those interviewed said they expect to work in metropolises such as Beijing or Shanghai."
The graduates have expanded their horizons when choosing a job, Li Ang said.
"The expected salary levels are not their only concern. They also pay more attention to personal development. This means they are not fickle, but becoming more mature."
Other job experts said the university graduates are more competitive compared with those with different educational backgrounds.
"It is not very difficult for university graduates to find a job, and their employment stress is not high this year. The increase in their salaries three years after graduation is also the fastest compared with those who graduated from vocational schools and other educational institutions," said Chen Yu, vice-president of the China Association for Employment Promotion.
Although employment stress has decreased this year, Xiong, the stress management center's director, suggested that graduates can still learn more about dealing with pressure positively.
"They need to improve their own abilities, including organizational capabilities and collaboration skills," Xiong said.
"And the government should strengthen the implementation of employment policies, giving more support and preferential treatment to self-employment."
fanfeifei@chinadaily.com.cn