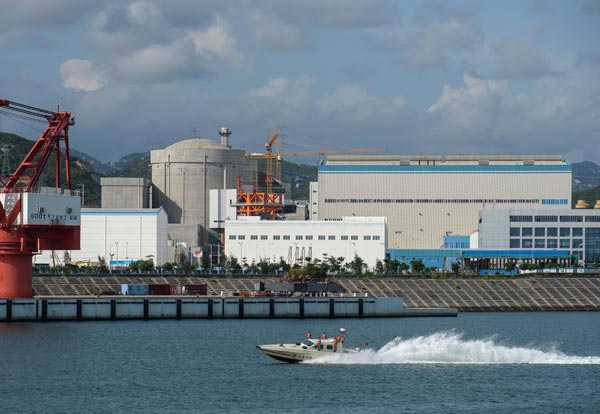 Yangjiang nuclear plant in Guangdong province. Several new projects are expected to start construction this year to meet the government's target of having about 15 percent of non-fossil fuels in its energy mix by 2020. [Photo/Xinhua]
There is a saying in the nuclear industry that people will accept building nuclear power plants, only if they are built far away from their home.
That said, though it has been three years since China gave the green light to new nuclear power plants after the Fukushima nuclear crisis in Japan, an increasing number of people are voicing support for the clean source of power, after repeated instances of dense, gray smog in major Chinese cities.
Despite the fact that no ground was broken on new nuclear plants last year, experts believe that this year would be a crucial one for the industry, with several new projects expected to commence construction so as to meet the government's target of having about 15 percent of non-fossil fuels in its energy mix by 2020.
In November, the State Council rolled out an energy plan to have a more efficient, self-sufficient, green and innovative energy production and consumption. The plan envisages having 58 gigawatt of nuclear power in operation by 2020 and at least 30 GW under construction. To meet that target, China needs to add at least another 10 GW of installed capacity, experts said.
According to Guo Chengzhan, deputy director of the National Nuclear Safety Administration, all the nuclear power generating units in China have met, and in some cases, even exceeded, global safety standards.
"The nuclear power industry has been operating safely for about three decades in China," he said, adding that China was getting ready to restart its nuclear power program.
Zhao Chengkun, vice-chairman of the China Nuclear Energy Association, said China's nuclear plans are on track and the country will soon give the green light for setting up nuclear power plants in coastal regions.
"Currently nuclear power accounts for just 2 percent of the total energy consumption, thereby providing enough room for growth," he said.
"Normally it takes about five to six years to build a nuclear plant, and as such most of the new nuclear projects are set to start this year."
Under huge pressure to cut carbon emissions, China has chalked out an ambitious nuclear program for the next five years and will add about 10 new reactors annually within the 13th Five-Year Plan (2016-2020), experts said.