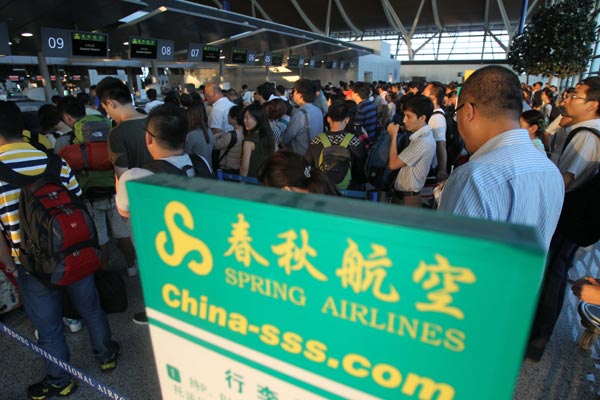 Spring Airlines Co Ltd, the first low-cost carrier in China, took off in 2005 and runs 15 international routes, making up 18 percent of its entire network by the end of 2013. Provided to China Daily
Low-cost airlines soar in China as they diversify their offerings and cater to the changing needs of flyers, reports Wang Wen. 
Spring Airlines Co Ltd, the first low-cost carrier in China, started trading on the Shanghai Stock Exchange on Wednesday, with its price surging 44 percent to 26.15 yuan ($4.20) on the day.
The carrier issued almost 100 million shares in an initial public offering on Jan 12 at 18.16 yuan per share, much higher than the share price of any of China's four largest carriers. The funds will be used to double its fleet to 100 planes by 2018, it said.
The strong market performance of Spring Airlines reflected investors' confidence in the carrier's low-cost business model, analysts said.
Generally, low-cost airlines offer low fares and limited free services. Unlike the full-service airlines that have battled rising costs in recent years, low-cost carriers have sought innovative ways to cut costs.
The world's first low-cost airline was Southwest Airlines Co in the United States, which has been flying since 1971. Spring Airlines took off in 2006.
The number of Chinese low-cost airlines increased from two to six in 2014, although most of them were formerly full-service carriers.
They accounted for 8 percent of domestic routes in 2014, compared with 0.7 percent in 2006, according to the CAPA Center for Aviation, a global aviation market analysis firm.
The only new low-cost airline in 2014 was 9Air Co Ltd, which ran its first commercial flight on Jan 16. The cheapest seats cost only 9 yuan and they sold out instantly.
Three full-service airlines-China Eastern Airlines Co Ltd's Beijing-based subsidiary known as China United Airlines Co Ltd, China Express Airlines Co Ltd based in Guizhou province and Chengdu Airlines Co Ltd in Sichuan province-adopted the budget model in 2014.
Some airlines, including Capital Air Co Ltd, a Beijing-based subsidiary of HNA Group, and Chongqing Airlines Co Ltd, a subsidiary of China Southern Airlines Co Ltd, have adopted the low-cost model in part by removing first-or business-class cabins and cutting ticket prices, but they don't call themselves budget carriers.
Some other full-service carriers are now looking more closely at the low-cost model.