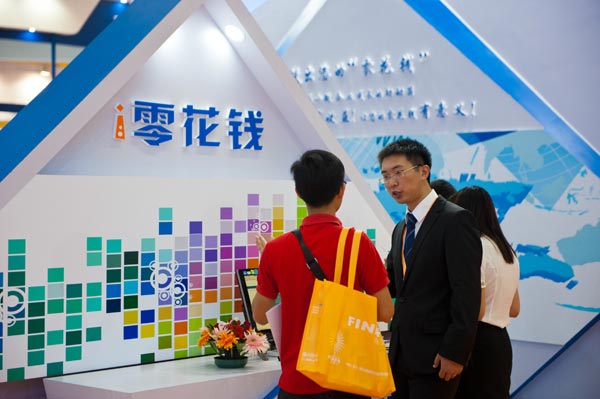 The stand of an online finance company at a financial expo in Shenzhen, Guangdong province. Transactions involving P2P platforms doubled to 250 billion yuan in 2014. [Photo/Xinhua] 
Transactions double, but disclosure norms weak in unregulated segment of financing
The nation's fast-growing Internet finance market conceals great risks, a domestic ratings agency warned on Wednesday.
Inadequate disclosure, debt repayment problems and poor profitability are the biggest issues challenging Chinese peer-to-peer lenders, said Dagong Credit Data Co Ltd.
The Beijing-based agency unveiled a blacklist of 266 platforms that it said had engaged in "serious violations of laws and regulations". Another 676 companies were on an early warning list, according to Dagong, which examined about 1,300 lenders in the industry.
Wang Zaixiang, president of Dagong, said emerging problems in the Internet finance industry have the potential to derail the nascent sector.
"Most of the information disclosures by the P2P lenders were not comprehensive. They have difficulties in paying their debts, in achieving profitability, and in management," said Wang.
He said that these problems have seriously undermined the lenders' credibility and will have an adverse impact on liquidity.
Money raised by the platforms mainly flowed into real estate and the interbank market instead of to cash-starved small and medium-sized enterprises, Wang said.
Transactions involving P2P platforms doubled to 250 billion yuan ($41 billion) in 2014, according to the Internet Society of China.
Online P2P lending uses the Internet to conduct daily transactions or finance businesses.
Given their lower transaction costs, online wealth management products allow investors an alternative to tightly controlled interest rates. But the largely unregulated market is rife with money laundering, fraud and illegal fundraising.
Dagong found that platforms with larger registered capital tend to receive better ratings.
Transaction volumes, investment policies and the number of investors also influences the risk level.
Shanghai-based lufax.com was the only leading online lender on the early warning list provided by Dagong. The site, under Ping An Insurance (Group) Co of China Ltd, has more than 800 million yuan in registered capital.