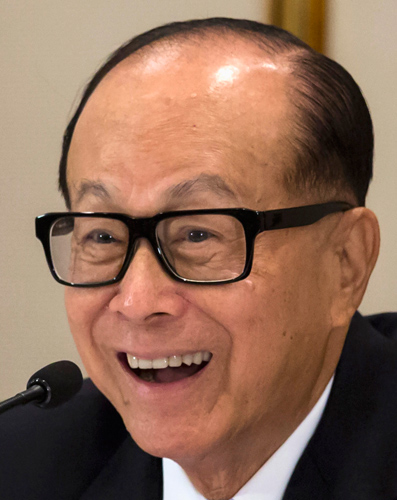 Li Ka-shing, chairman of Cheung Kong Holdings Ltd. [File photo]
Hong Kong's Cheung Kong Infrastructure Holdings Ltd, backed by Li Ka-shing, Asia's richest man, has bought Britain's Eversholt Rail for an enterprise value of 2.5 billion pounds ($3.8 billion), the latest in a string of Asian buyers targeting European assets.
UK private equity fund 3i Infrastructure Plc said on Tuesday that it and Eversholt's other investors had sold their entire holding to the Hong Kong billionaire's CKI group.
Eversholt owns around 28 percent of the UK's passenger trains, with 19 fleets. It is one of the UK's three leading rail rolling stock companies.
3i, Morgan Stanley Infrastructure Partners, and STAR Capital Partners with its co-investor PGGM, acquired the business for 2.1 billion pounds from HSBC in 2010.
Unlike most private equity funds, which usually hold investments for between four and six years, infrastructure funds generally hold their assets for longer periods of time as they are seen as steady, low-risk investments.
"While 3i Infrastructure generally aims to hold its Core investments over the long term, it will sell investments from time to time where this generates significant additional value for shareholders," said Peter Sedgwick, Chairman at 3i Infrastructure.
"It is in this context that we have taken the decision to sell our shareholding in Eversholt Rail."
The sale of 3i's stake will generate around 358 million pounds, it said, as well as a 15.5 million pound sum received in December. A source close to the deal said that STAR, a London investment fund manager, would make a return of 3.4 times its investment.
Another source familiar with the matter said that CKI pre-empted an auction process for Eversholt after losing out on the sale last year of Porterbrook, another UK rail rolling stock company.
Eversholt, Angel Trains and Porterbrook have dominated the market since 1994 when the UK government privatized the country's railways. The companies have proved attractive to investors for their steady income, longer-term leases and the country's growing numbers of rail passengers.
Eversholt had core earnings (EBITDA) of 263.2 million pounds in 2013, according to its website. The price of 2.5 billion pounds values Eversholt at about 9.5 times earnings before interest, tax, depreciation and amortization.
CKI also looked at Dublin-based aircraft lessor Awas, while other Asian buyers have sought out Western deals. Last year Reuters reported that China Investment Corp and AVIC, a Chinese state-owned aerospace and defense company, had been in talks to acquire private equity-backed Irish aircraft leasing firm Avolon.
CKI was advised by RBC. 3i was advised by Rothschild, Morgan Stanley by Citi, and STAR Capital by Macquarie, two sources said.