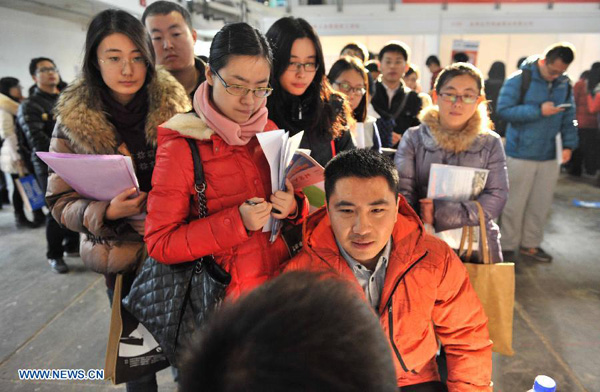 A job seeker receives interview at a job fair for postgraduates in Beijing, capital of China, Dec 18, 2014. About 18,000 opportunities were offered at the fair. [Photo/Xinhua]
BEIJING - China's registered unemployment rate in urban areas stood at 4.09 percent in 2014, slightly down from the 4.1 percent recorded in 2013, the Ministry of Human Resources and Social Security (MHRSS) said on Friday.
A total of 13.22 million new jobs were created in urban areas last year, up from 13.1 million posted in 2013, ministry spokesman Li Zhong said at a press conference.
The government pledged to add more than 10 million jobs and keep the registered urban unemployment rate below 4.6 percent in 2014, as Premier Li Keqiang delivered a government work report during the annual "Two Sessions" in March 2014.
Friday's employment data indicated that China's job market was resilient amid slackening momentum in the economy as China's GDP grew 7.4 percent in 2014, the weakest annual expansion in 24 years.
Li Zhong attributed the stable job increase and low unemployment rate to the government's deepened employment reform and pro-employment policies despite the country's falling growth rate.
The Chinese government has introduced a series of reforms to the financing, investment, taxation and logistics systems, and has opened the door wider for the development of the service sector and other emerging industries.H MHRSS data also showed that gross revenue of social insurance funds increased 12.3 percent year on year to 3.96 trillion yuan ($647.06 billion), while gross expenditures totaled 3.30 trillion yuan, up 18.1 percent from a year ago.
China's social insurance funds include basic pension funds, basic medical insurance, unemployment insurance, work-related injury insurance and maternity insurance.