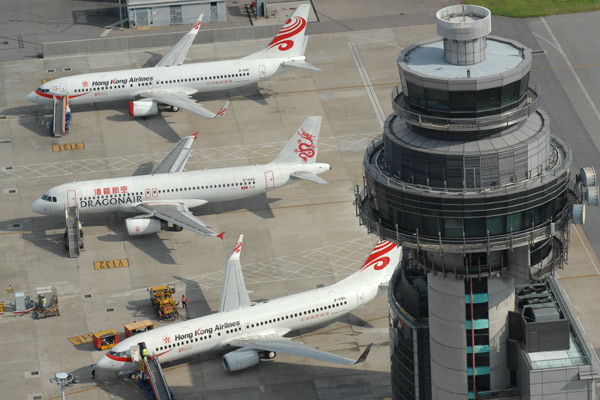 The Hong Kong International Airport on the island of Chek Lap Kok. The planes being purchased by Cheung Kong Holdings Ltd are leased to airlines for an average six to nine years. [Photo / Provided to China Daily] 
Real estate giant hopes to cash in on boom in Asia's travel industry
Hong Kong billionaire Li Ka-shing's Cheung Kong Holdings Ltd has agreed to pay $1.89 billion to buy 35 planes from companies including General Electric Co's aviation services unit to enter the aircraft leasing market.
Cheung Kong will also form a 60-40 venture with Japan's MC Aviation Partners Inc to buy an additional 15 planes for $733.5 million, according to a filing to Hong Kong Stock Exchange on Tuesday.
Considered Asia's richest man, Li is entering the market as increasing urbanization and a growing middle class are fueling a surge in travel demand across the world's most populous continent.
Cheung Kong said in August it was seeking to buy planes from Terra Firma Capital Partners Ltd's Awas arm to quickly build a major presence in the business.
"The aircraft leasing business will generate long-term steady income for the group," Cheung Kong said in the filing. The purchases "will constitute a meaningful platform to further develop the aircraft ownership and leasing business for the group".
Cheung Kong is mainly a real estate investor and developer. Its unit Hutchison Whampoa Ltd has worldwide operations ranging from port operations to retailing, from energy to telecommunications.
The Hong Kong company said it will pay $132 million for its stake in the venture with MC Aviation. Through its unit Accipiter Holdings Ltd, Cheung Kong will buy 18 planes from subsidiaries of GE Capital Aviation Services Ltd for $714.8 million, according to the filing.
The 11 Airbus Group NV A320-200s, five Boeing Co 737-800s and two 737-900ERs have an average age of 3.1 years. Accipiter will buy an additional three 737-800s from GE affiliates for $101.2 million.
Cheung Kong has also agreed to buy 10 planes from Bank of China Ltd's BOC Aviation Pte in two purchases, of $213.3 million and $278.7 million, and will pay $584.2 million to Jackson Square Aviation LLC for 14 planes, according to the filing.
The planes being purchased are currently leased to airlines for an average six to nine years.
The number of air passengers traveling in Asia is projected to expand an average 4.9 percent annually in the next 20 years, a rate rivaled only by the Middle East, according to an International Air Transport Association study last month. China is expected to be the largest driver, growing 5.6 percent a year.
Cheung Kong said on Aug 4 that it had submitted a preliminary, non-binding proposal to buy planes from Awas, without providing details. Awas plans to break up its fleet of about 280 planes and sell about 100 newer aircraft for as much as $5 billion, people with knowledge of the matter told Bloomberg News.
China Aircraft Leasing Group Holdings Ltd became the first smaller-scale aviation company in Asia to go public in July, and said it plans to expand across Asia even as it relies on China for most of its business. The country has said it will encourage its other lessor players to look for opportunities overseas.
AVIC Capital Co said in August that its financing arm, Aviation Industry Corp of China, is in talks with "relevant parties" to buy Dublin-based aircraft-leasing firm Avolon Holdings Ltd.
Airlines globally will buy aircraft worth $4.4 trillion in the next two decades as more Indians and Chinese fly, Airbus said last year.
Asia will push commercial plane sales to $5.2 trillion over the next 20 years as China overtakes the US as the world's largest aviation market, Boeing said earlier this year.