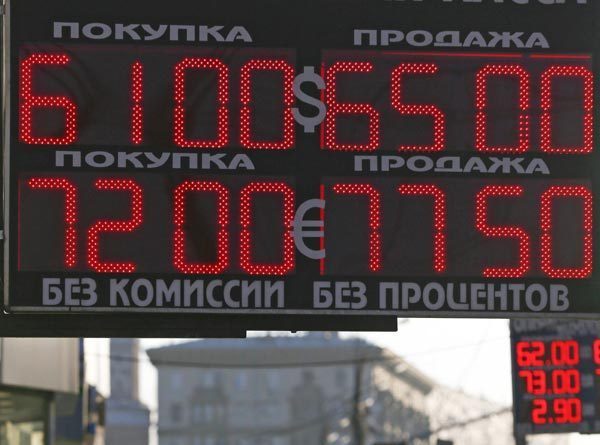 Boards showing currency exchange rates are seen in Moscow, January 7, 2015. Many emerging market currencies weakened on Wednesday, weighed down by oil prices hitting fresh lows, with Russian assets feeling most of the pain. South Africa's rand, Turkey's lira, and the Russian rouble all traded lower against the dollar, after oil prices fell below $50 barrel for the first time since 2009.
With a long line of trucks and front loaders fully packed in the spacious yard of his company, Lyu Wei, general manager of Heihe Fengtai Engineering Machinery Products Trade Co, has enough reasons to worry about his company's performance in 2015.
A plunge in the value of the rouble has dealt a deadly blow to his company, the majority of whose revenue comes from exporting engineering machinery products to Russia.
"It was a catastrophe for exporters to Russia. The purchasing power of our partners in Russia was completely paralyzed, and nobody can predict what the market will be like in 2015," said Lyu.
The company's exports have slumped by 90 to 95 percent since the rouble's value plunged in the fourth quarter of 2014, he said.
The depreciation of the rouble, which fell to a record low of 80 per US dollar on Dec 16 before recovering to 67 per dollar, has affected all sectors in China that have businesses related to the Russian market, especially in border areas. It has also hit China's agricultural exports to Russia, which increased such imports from China after its standoff with the West.
Liu Chuanbin, a quarantine officer at the Heihe inspection and quarantine bureau, said the volume of fruit and vegetable exports to Russia through the port of Heihe also decreased sharply.
The number of cargo trucks at the port carrying agricultural products to Russia is half of what it was a few months ago, he said.
"Most importers in Russia have cut the volume of trade," he said.
Russian authorities decided to lift a ban on Chinese pork imports in August after Moscow imposed a one-year ban on agricultural products from the United States, the European Union, Norway, Canada and Australia.
Two subsidiaries of Henan Shuanghui Investment and Development Co have so far exported more than 4,000 metric tons of pork to the Russian market since the ban was lifted. However, the exports were halted last month due to the depreciation of the rouble.
Zhang Liangfang, deputy general manger at Wangkui Shuanghui Beidahuang Food Co, in Heilongjiang province, said the standoff between Russia and the West has provided an unprecedented market opportunity. However, a dramatic fall in the rouble that halted imports was unexpected.
"We still have high hopes that imports will be resumed in 2015," he said, hoping the export value of pork to Russia would take up 40 percent of the company's production this year.
Zhang said the company is also trying to trim the cost of logistics by opening land transportation channels to Russia, which could be much more efficient than the current sea transport.