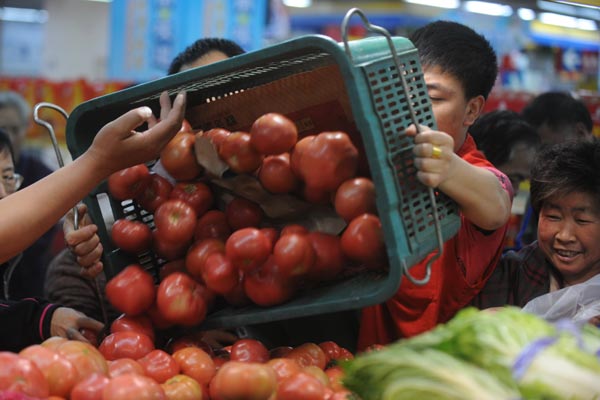 Li Yi/China Daily
Further reforms needed, especially to help companies in the massive service sector
Zheng Yufei, the mother of an eight-month-old baby living in the south of Beijing, received a basket of fresh vegetables on a Monday morning after she placed an order through the messaging service platform WeChat the night before.
Liu Xin, who delivered the basket, is part of a family firm selling vegetables near Zheng's housing complex. He received 5 yuan ($0.81) extra as a delivery fee.
"The delivery service is great-I have no time to pick up vegetables at the stall downstairs as I have to stay with my baby," says Zheng.
Liu started his small-scale delivery business in April last year. The family buys its vegetables from Xinfadi, Beijing's largest agricultural products wholesale market, early in the morning each day.
"We set up the stall at 6 am and close it at 11 am, three days a week, near the gate of the housing scheme. People living here can buy their vegetables before they go to work," says Liu.
The 36-year-old, who used to be a farmer in the suburbs of the capital, opened an account on WeChat to receive orders online.
"I only deliver vegetables to people who live nearby; they place their orders a day in advance to ensure they can receive their vegetables when they want," he says.
Liu is one of hundreds of vegetable retailers benefiting from the Farmers-to-Consumers Vegetable Sale Service program, which allows retailers to buy vegetables directly from farmers for sales in residential areas, not through intermediate wholesalers.
The F2C program effectively cuts down the logistics costs and helps the municipal government keep the vegetable price growth at bay.
The F2C, initiated by the Beijing municipal government in 2010, has not only provided thousands of job opportunities to rural migrant workers but enabled retailers to cut vegetable prices to the minimum, says Ma Huiping, a sub-district office director.