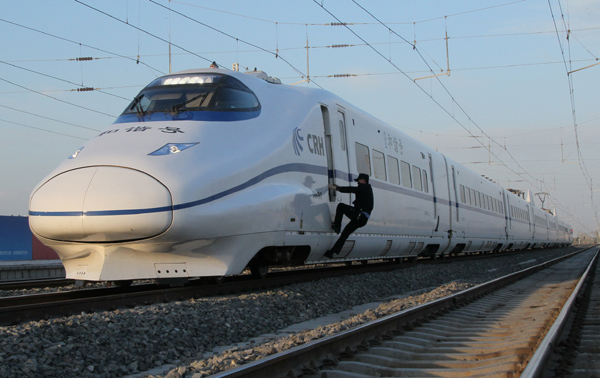 A test-running bullet train at the Hami station in Xinjiang Uygur autonomous region. The high-speed railway from Lanzhou, Gansu province, to Urumqi, Xinjiang, is expected to go into service at the end of this year. [Provided to China Daily]
Two State-owned railway vehicle manufacturers denied insider trading allegations in an announcement on Tuesday, saying executives involved were unaware of the reorganization and based their investment decision solely on the prospect of the companies.
Such claims have cast a shadow on the deal, which is expected to create the world's largest train manufacturer by sales, as media reports revealed that more than 20 executives of CNR Corp and CSR Corp and their relatives were found to have bought and sold stocks in each company before the announcement of the merging proposal.
The CSR denied the allegation in a filing to Hong Kong Exchange, stating that the trading by relevant parties was "merely individual investment and has no connection with the reorganization."
The CNR released a similar announcement at the same time, saying management involved had dealt in the CSR shares before they were informed of the merger proposal and their trading were based on the public information and their own analysis of the investment value of the shares.
The two companies suspended their stocks from trading from October, and announced their merging proposal by the end of last year after two months of government review and preparation.
According to the plan, CSR will issue shares to CNR's shareholders to complete the merger. The two companies soared by the daily limit of 10 percent on Dec 31 once trading resumed.