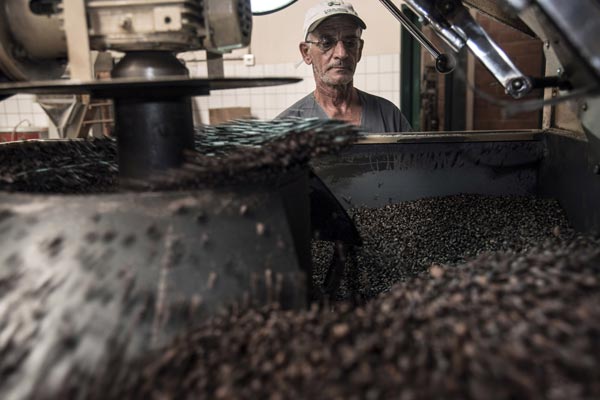 Coffee beans being prepared for roasting at a curing facility in Itapira, Brazil in this February 2014 photograph. Coffee output in Brazil is expected to fall this year due to a drought. [Photo/Agencies]
Brazil is getting dry again and the coffee bulls are back.
Growing regions are forecast to get about half the normal rainfall this month and in February, according to Celso Oliveira, a meteorologist at Somar Meteorologia in Sao Paulo. Brazil is the world's biggest grower and exporter of the produce, spurring hedge funds to increase their bets on higher prices for the first time in six weeks.
After more than doubling to last year's peak in October amid the worst drought in decades, coffee ended 2014 in a bear market after heavy rains in November. The return of dry weather sparked renewed risks of damage to flowering coffee trees, sending prices up 12 percent last week, the biggest gain in almost 11 months.
"Coffee is very weather-dependent," John Stephenson, chief executive officer of Toronto-based Stephenson & Co Capital Management, which oversees C$50 million ($41.9 million), said on Friday. "You've seen a massive drawdown in stockpiles in Brazil. When that's coupled with the drought, supply is tight-to-constrained."
Arabica coffee for March delivery surged 19 cents last week to $1.8 a pound on ICE Futures US in New York. Prices rose 10 percent this month, the most among the 22 components in the Bloomberg Commodity Index, which fell 1 percent. The MSCI All-Country World Index of equities declined 1.2 percent and the Bloomberg Dollar Spot Index climbed 1.2 percent.
Coffee bets
The net-long position in coffee rose 6.6 percent to 27,071 futures and option contracts in the week ended Jan 6, the biggest gain since mid-October, according to US Commodity Futures Trading Commission data published on Friday. Long wagers climbed by 2,492 contracts, offsetting a rise in short holdings of 806 contracts.
Northern regions of Brazil will remain "almost completely dry" in the next two weeks, while light rain is expected in southern Minas Gerais and most of Sao Paulo, Donald Keeney, a meteorologist with MDA Weather Services in Bethesda, Maryland, said on Thursday. As much as 40 percent of the crop is at risk, because plants need water to develop cherries that contain the coffee bean, he said.
Prices could climb as high as $2.30 a pound by the end of December, according to Ross Colbert, a New York-based global beverage strategist at Rabobank International. Continued dryness may compound last year's crop damage, he said.
Brazil harvest
Weather concerns may not last. Arabica-coffee futures dropped 11 percent in December on signs the 2014 drought in Brazil had eased.
The crop Brazil's farmers will harvest from May to October will reach 50 million bags, Ecom Agroindustrial Corp said in December. That compares with a July outlook from the National Coffee Council for less than 40 million bags. Each bag weighs 60 kilograms, or 132 pounds. Prices are down 19 percent from a 32-month high of $2.255 reached in October.