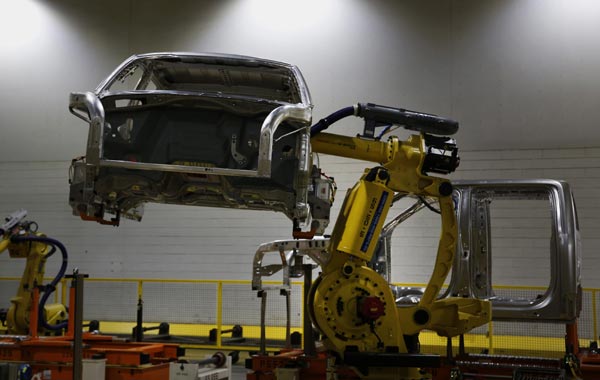 A robot moves a 2015 Ford Motor Co F150 pickup onto the production line at the company's Dearborn Truck Assembly facility in Dearborn, Michigan, US in November. [Photo/Agencies]
Recession, robots and demographic changes lead to the current situation which is surprising many
Month after month, US hiring keeps rising, and unemployment keeps falling. Eventually, pay and inflation are supposed to start surging in response.
They're not happening.
In December, employers added a healthy 252,000 jobs-ending the best year of hiring since 1999-and the unemployment rate sank to 5.6 percent from 5.8 percent. Yet inflation isn't managing to reach even the Federal Reserve's 2 percent target rate. And paychecks are barely budging. Average hourly pay actually fell last month.
Economists are struggling to explain the phenomenon.
"I can't find a plausible empirical or theoretical explanation for why hourly wages would drop when for nine months we've been adding jobs at a robust pace," said Patrick O'Keefe, chief economist at consulting firm CohnReznick.
Normally, with unemployment this low, the Fed would raise its benchmark interest rate to prevent inflation from spiking and the economy from overheating. Not this time. Though the Fed's record-low rates have helped support the economy since the 2008 financial crisis, those low rates haven't met their other goal of raising wages and inflation to normal levels.
When the US economy last enjoyed a similar hiring binge, in 1999, average wages climbed 3.6 percent, compared with 1.6 percent last year, according to the government.
Four crucial factors may explain consistently solid job growth without inflation: