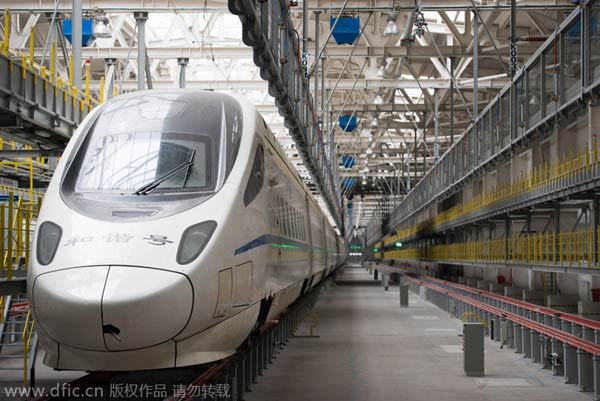 A CRH (China Railway High-Speed) train is seen at a maintenance station for an overall system examination in Urumqi,capital of Northwest China's Xinjiang Uygur autonomous region, June 3, 2014. [Photo/IC]
Claims of alleged insider trading by senior executives of two State-owned railway vehicle manufacturers planning to merge have caused shares in the companies to fall and cast a shadow on the deal, which is expected to create the world's largest train manufacturer by sales.
Media reports have suggested that more than 20 executives of the two companies — CNR Corp Ltd and CSR Corp Ltd — and their relatives have been found to have bought and sold stocks in each company during the six-month period prior to their trading suspension in October last year before the announcement of the merging plan.
Some legal experts said the merger may be halted if the allegations are proved to be true and prompt regulators to launch an investigation into the matter.
The stock price of CNR dropped on Monday by 5.33 percent while CSR declined 1.36 percent following the reports. The two stocks had surged by the 10-percent daily limit for six consecutive trading days since they resumed trading on Dec 31.
It remained unclear whether the securities regulator had launched an investigation into the share dealings.
The China Securities Regulatory Commission did not respond to China Daily's inquiries on Monday.
Last October's merger plan actually disclosed the stock holdings of the executives and their relatives. It claimed that the executives were unaware of the plan when they engaged in the stock trading, and their various investment decisions were made solely based on the value and prospect of the companies.
The merger document showed that Cui Dianguo, president of the CNR, bought 15,000 shares in CSR at an average of price 5.14 yuan (87 cents) per share and sold 50,000 shares at the price of 5.96 yuan from April to October last year, according to the public information. But the company did not disclose how many shares Cui owned before April.