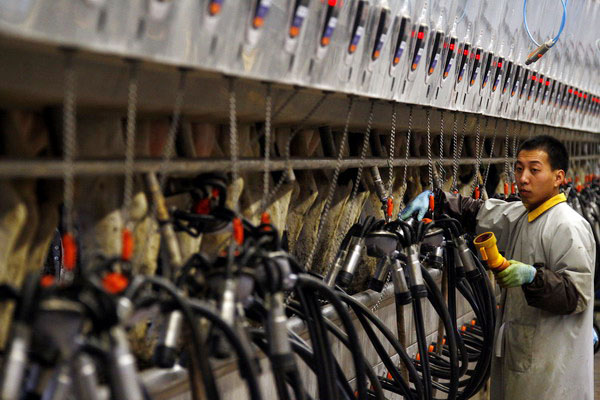 A worker prepares to milk cows at a farm managed by New Zealand dairy giant Fonterra Co-operative Group Ltd in Yutian county, Hebei province.[Photo/Agencies]
BEIJING -- The Ministry of Agriculture said Sunday that it would help dairy farmers in Northern China who have resorted to throwing out milk and killing their cows through lack of sales avenues.
The ministry encourages dairy firms to increase purchasing, starts dairy production monitoring on a weekly basis, and strengthens policy support for the dairy industry, the ministry said in a statement.
The ministry said it had talked to major dairy firms including Inner Mongolia Yili Industrial Group and Mengniu Dairy Group, and urged them to purchase more milk, stabilize prices and safeguard interest of dairy farmers.
The ministry will work together with other central government departments including the Ministry of Finance to map out more supportive policies to help dairy farmers to overcome their plight, it said.
"A tonne of milk has to be discarded each day," dairy farmer Pei Shuke in east China's Shandong province said. "This desperate thing rarely happened before."
Similar cases have spread to other major milk-producing areas in China, including Hebei and Inner Mongolia. Slumping milk prices since the second half of 2014 have pushed many dairy farmers to desperation.
Milk prices fell for ten consecutive months starting in February 2014. In the first three quarters of last year, they dived to 3.84 yuan per kg from 4.26 yuan per kg, and the trend showed no signs of stopping in the last three months of 2014.
The dairy sector downturn has come as a surprise to many. In late 2013, China's dairy products saw a price hike following a production decrease caused by disease and farmers leaving the industry. Milk prices jumped to more than 5 yuan ($0.8) per kilogram in December 2013 from 3.4 yuan per kg a year earlier.
The dairy boom sent ripples of excitement through the sector, with farmers purchasing large numbers of dairy cows at high prices to boost production.
But the boom proved to be a flash in the pan. In March 2014, foreign milk prices began to fall drastically due to overproduction. Many dairy companies resorted to cheap overseas sources and limited purchases from domestic suppliers, causing dairy prices to dip to new lows.