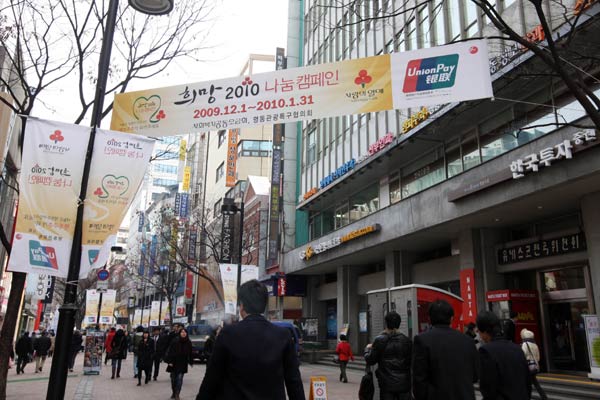 UnionPay banners on a shopping street in Seoul, South Korea. China UnionPay has issued more than 10 million cards in South Korea jointly with local credit card institutions.[Photo/Xinhua]
BEIJING - UnionPay International announced plans to expand its overseas presence Friday, with company's services already available in 148 countries and regions outside the Chinese mainland.
Beijinger Yin Nan said her experiences in the Republic of Korea (ROK) this week were no different from at home. Up to 80 percent of her spending, such as flight tickets, hotels and shopping, was paid through UnionPay.
"It's very convenient because I don't have to worry about exchanging a large amount of local currency," she said.
"However, I do carry some cash for little souvenirs or street snacks," she said.
The company already has a heavy presence in the ROK since entering the market in 2005, with more than 10 million UnionPay cards issued in cooperation with local banks.
"The ROK is one of the easiest markets in terms of using the UnionPay card," the company said in an email interview with Xinhua.
"Apart from Chinese users, an increasing number of people from countries such as Japan and Mongolia and China's Hong Kong and Macao regions are using UnionPay cards," the company said.
In Hong Kong and Macao, almost all ATMs and businesses accept UnionPay cards. Nearly 20 million UnionPay cards have been issued in Hong Kong and Macao.
The Asia-Pacific region is the market stronghold but UnionPay has also become one of the biggest international bankcard brands. In Europe and North America, UnionPay's basically covers the tour sites frequented by Chinese travellers.
"With respect to the global trend in the payment sector, we will continue to expand our coverage... meanwhile, we will also improve services so that more foreign nationals adopt our products," the company said.
Chinese travellers made more than 100 million overseas trips in the first 11 months of this year, compared to less than 9 million in 1998.
Asian countries and regions account for close to 90 percent of destinations, followed by 3.5 percent to Europe, 3 percent to Africa, 2.7 percent to the Americas, and 1.1 percent to Oceania.