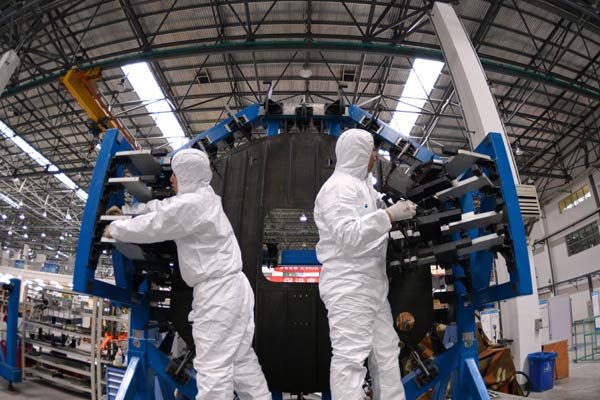 Workers at AVIC SAC Commercial Aircraft Co in Shenyang, Liaoning province, assemble the body part of the C919 passenger airliner.[Photo/Xinhua]
Union set up by manufacturers aims to improve air parts quality
China's aviation industry must encourage more private enterprises to promote the development of large jetliners, said an industry leader.
"It takes a long time and a solid industrial foundation for a nation's civil aircraft industry to grow up and become strong. A huge investment, planning and management resolve are helpful, but they are far from enough to build a real, large airliner," Zhang Hui, executive vice-president of AVIC International Holding Corp, told China Daily in an exclusive interview.
"State-owned companies' monopolies will never make a competitive aviation industry. Only with the active participation from private enterprises can we form a strong foundation for the industry's sustainable development. In addition, what we are doing now will inject momentum into the development of our own jetliners," he said, referring to the establishment of an aviation parts manufacturers' union.
Eighteen Chinese private companies have joined the union, which was founded on Friday in Beijing and is headed by Zhang's company.
As the export wing of the Aviation Industry Corp of China, the country's leading aircraft maker, AVIC International Holding Corp has been deeply involved in the subcontracting of civilian aircraft parts for international aerospace giants, including Boeing and Airbus.
Most of China's State-owned aviation enterprises have long focused on military planes, which restricts their ability to obtain overseas contracts for civilian aircraft parts, so foreign buyers are shifting their attention to private Chinese companies.
However, foreign clients keep forcing the Chinese manufacturers to lower their products' prices, often leading to Chinese companies undercutting each other, said Yang Chunsheng, a senior manager at AVIC International Holding Corp.
"Therefore we must unite to face the fierce competition in the international market. A union will give its members a bigger say in bargaining with buyers," he said.
The union is expected to assist its members with gaining information and certification as well as improving their products' quality, Zhang said, noting that the country's military aircraft industry will also open its long-closed door to private companies in the near future.
The Commercial Aircraft Corp of China will benefit a lot from the union for its C919 narrow-body airliner project, the nation's latest attempt to break the Airbus and Boeing duopoly, as it will embrace a large pool of parts suppliers who comply with unified guidelines on manufacturing and quality standards under the union, according to Zhang.
Most private Chinese companies that applied for a role in the C919 project were rejected due to their lack of expertise and unsatisfactory product quality.
Zhang's company is currently working with Bureau Veritas-a French agency involved in the testing, inspection and certification fields-and is planning to apply the French firm's rich expertise in supplier monitoring and certification to ensure the product quality of the union members.
It is also cooperating with the Institute of Microelectronics under the Chinese Academy of Sciences to adopt the cutting-edge Internet of Things to integrate the union members' supply chain, according to him.
Wang Ya'nan, deputy editor-in-chief of Aerospace Knowledge magazine, said such a union will be of great help for aircraft parts makers in China to stick together in international competition.
"The union should have been established a long time ago because a lot of AVIC-owned and private companies have been struggling for overseas contracts on their own, without any collaboration or assistance from each other," he explained. "Now they can share information and cooperate through the union and that will increase their opportunities and reduce costs."