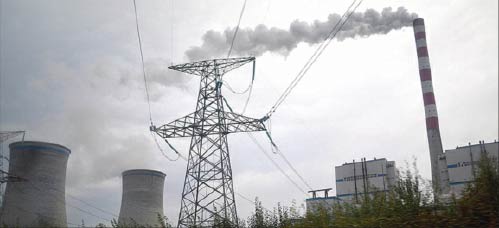 Smoke spewing from the chimney of a coal-based power plant in Qiqiha'er, Heilongjiang province, in September. Electricity companies account for 40 percent of the carbon emissions in China. WANG YUNLONG/FOR CHINA DAILY
China's electricity generators, which account for 40 percent of the country's carbon emissions, are stepping up their efforts at improving energy efficiency and emission reduction through a market-driven, pilot carbon trading system.
Wang Zhixuan, secretary-general of China Electricity Council, told a carbon-trading summit in Beijing that in the past electricity companies have largely adopted a "wait-and-see" approach to the practice.
But now some of them are actively increasing their involvement in the carbon-trading market, as changes to the regulatory landscape and demand for cleaner power sources force them to follow a different path of growth.
Carbon trading is a practice designed to reduce overall emissions of carbon dioxide and other greenhouse gases by providing regulatory and economic incentives.
"China has been vigorously promoting a market-oriented carbon-trading mechanism. Though currently at a very early stage as a pilot program, the country is now pushing for a national market," he said.
Under the planned trading program, carbon dioxide emissions from emitting sources will be capped, and those that emit below their quotas can sell their excess to other enterprises or even to investors as new sources of revenue.
Electricity companies will have to put more effort into cutting carbon emissions either through buying quotas on carbon-trading exchanges or upgrading their own energy-efficiency technology, Wang said.
"Either way, this will be good for our efforts at lowering direct-coal utilization and stimulating the economy by upping productivity."
Council figures show that carbon emissions were reduced by 4 billion metric tons between 2005 and 2012.
Hou Chunfeng, a consultant at Beijing Tian Run New Energy Investment Co Ltd, a fully-owned subsidiary of the listed Xinjiang Goldwind Science and Technology, said it had been helping various electricity power giants reduce their emissions through carbon trading.
Seven pilot carbon markets have opened so far in China, and have witnessed a high degree of compliance by emitters including power companies and manufacturers, according to the State Grid Energy Research Institute.
Up to October, national carbon trading volumes had hit about 14 million metric tons with transactions worth about 500 million yuan ($80.39 million)
"The volumes are not that big so far, but the good thing is that these companies are more interested and committed to the trading process," said Hou.
Su Wei, director general of Climate Change at the National Development and Reform Commission, said that the government will continue to push low-carbon economic development in the upcoming 13th Five-Year Plan (2016-20), finalizing regulations and policies for what will be the world's biggest emissions trading program.
China has pledged to reduce its carbon emissions by 40-45 percent per unit of GDP by 2020, compared with 2005 levels, Su said.