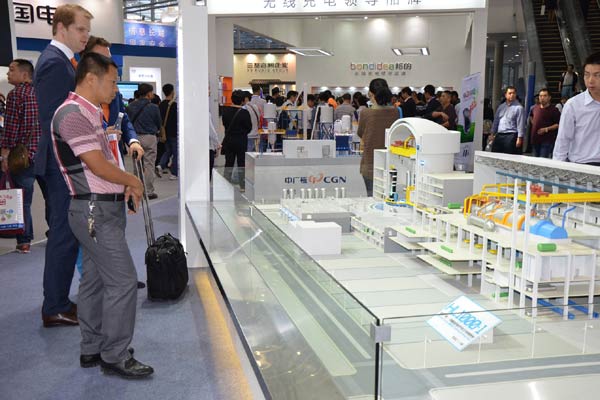 A model of Hualong One, a third-generation nuclear reactor, on display at the China High-tech Fair in Shenzhen, Guangdong province, in November. Hualong One was created earlier this year within a government initiative to form a coherent nuclear technology policy in China.[ZHENG XIAOHONG/CHINA NEWS SERVICE]
China's nuclear technology is fully equipped to compete against the West in bidding for international projects, a senior official at the China National Nuclear Corp said on Friday.
"Exporting nuclear technology is of strategic importance to China, and it creates more demand for China's own domestic nuclear supply chain. We look forward to exporting Chinese nuclear technology globally in the near future," said Li Xiaoming, assistant president of CNNC.
Li was speaking in Vienna, a day after CNNC's ACP1000 nuclear power reactor passed the Generic Reactor Safety Review by the International Atomic Energy Agency, a process that took a year to complete.
The ACP1000 forms the core technology of the Hualong One, a third-generation nuclear reactor design jointly developed by the CNNC and the China General Nuclear Power Group. Hualong One was created earlier this year within a government initiative to form a coherent nuclear technology policy in China.
China currently has two nuclear sites planned for Hualong One technology: Fuqing in Fujian province and Fangchenggang in Guangxi Zhuang autonomous region.
The development of third-generation nuclear technology came about after the Fukushima nuclear power station disaster in Japan, and has been designed to ensure better safety. China, the United States, France and Russia all have their own third-generation nuclear technology.
Li said that the IAEA's review of the ACP1000's technology met three main conclusions: That it is recognized as fully compliant with all the safety standards set by the IAEA, and is suitable to be sold outside China; that its technology is evolutionary, meaning it is constantly evolving by adding the latest and best technology to existing technology; and that it combines passive and active technology, ensuring better safety.
"If Chinese nuclear firms can successfully bid for international projects, it is a good demonstration of our own nuclear strengths and also helps with the domestic economy," Li said. "About 50 percent of the revenue from a nuclear project comes from equipment sales, and most of the equipment used in this case is Chinese technology made in China."
He said CNNC is currently exploring various opportunities to build nuclear plants overseas, including in the United Kingdom and Argentina.
In the UK, CNNC and CGN are both investing in Hinkley Point C, a nuclear plant project led by France's EDF Energy.
As a part of the agreement, EDF will subsequently support CNNC and CGN to invest in another UK-based nuclear power plant that uses Chinese technology.
Li said the international use of Chinese nuclear technology was still dependant on satisfying country-specific rules and requirements, although the globally recognized IAEA standard will make this process easier. For example, in the UK it still needs to pass the Generic Design Assessment designed by UK regulators.
Li said another important factor in ensuring the successful internationalization of Chinese nuclear technology would be public relations, to ensure its safety and quality messages are fully understood by the particular governments and communities involved.
Pan Ziqiang, a nuclear expert and an academician, said that passing the review means the Hualong One has been internationally recognized as having achieved the world's highest nuclear safety standards.
"The move is a milestone, and clearly it will help Chinese nuclear power companies to export their own nuclear technology, secured under independent intellectual property rights," he said.
However, he said passing the review is only a preliminary stage, and it is likely to take at least another five years for the construction of the first nuclear plant, referring to the reactors in Fuqing.
"Various countries have diffident nuclear plant regulation, supervision and control, so we still need to get approval from other nuclear export markets," Pan said.