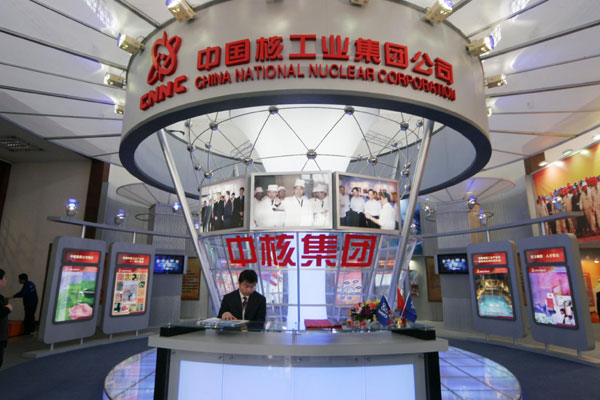 People visit the stand of China National Nuclear Corp during the 10th China International Exhibition on Nuclear Power Industry (CIENPI) in Shanghai, May 23, 2013.[Photo by Wu Changqing / Asianewsphoto]
China may merge its two biggest nuclear power companies as it bids to compete for contracts in overseas markets, three industry officials familiar with the situation said on Thursday.
Plans have already been submitted to the State-Owned Assets Supervision and Administration Commission to merge China National Nuclear Corp with China General Nuclear Power Corp, said Xu Lianyi, a former government official and industry consultant.
The two companies were deliberately set up as rivals to compete for projects in China and abroad. But under government prompting, they have cooperated on a single reactor brand, Hualong I, with the intention of eventually marketing it abroad.
"The merger between CGN and CNNC is inevitable," said Xu.
He said the proposals had received strong backing from the government.
Xu now serves as a senior expert at State Nuclear Power Technology Corp, a company that builds and develops third-generation nuclear technology, including the United States-based Westinghouse Electric Corp's AP1000 reactor.
Xu confirmed that the SASAC is also reviewing another merger involving SNPTC and one of the country's big five electricity generators-China Power Investment Corp.
Officials with the SASAC and CNNC said they were not aware of the merger. CGN was not immediately available for comment.
Last year, CNNC and CGN made a joint bid to take a stake of up to 40 percent in a reactor project at Britain's Hinkley Point.
The first Hualong I reactor is expected to be approved for construction soon, with local media reports saying it would be built in Fujian province.
Two other nuclear company officials confirmed the merger proposals on Thursday, with one saying that it was "ridiculous" that the companies should be competing with one another for overseas reactor projects.