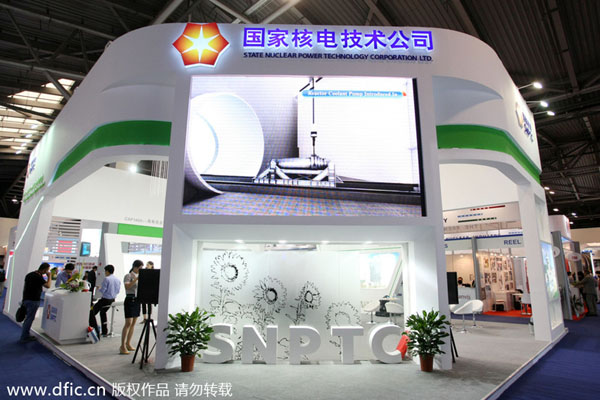 People visit the stand of State Nuclear Power Technology Co (SNPTC) during the 10th China International Exhibition on Nuclear Power Industry (CIENPI) in Shanghai, May 23,  2013. [Photo/IC]
Single entity will gain global bargaining power, but it might also become a monopoly, reports Lyu Chang.
Following the announcement that China's two largest train manufacturers will merge, the government is now considering another combination of industrial giants, this time in the nuclear power sector.
Officials hope that such a move would end intense competition and boost technology exports.
It was reported in September that the State Council had ordered the merger of China Northern Locomotive and Rolling Stock Industry Group Corp and CSR Corp Ltd.
Sources close to the State Assets Supervision and Administration Commission said that the move was intended to create a single strong player, because vicious competition has undermined the government's efforts to boost exports of high-speed railway technology.
"It will become China's long-term strategy. Actually, it (a merger of the train makers) could become a model for other State-owned enterprises," sources close to the SASAC were quoted as saying by the Shanghai Securities News in a recent report.
The comment sparked speculation that a similar plan could be unfolding for the nuclear power sector. China has the world's largest nuclear building program and hopes to leverage its experience into a nuclear export industry.
Both the nuclear and rail industries are being promoted by Chinese leaders during their visits abroad.
But experts said that consolidation in the nuclear power sector, seen as much more complicated and sensitive than the rolling stock industry, is still far off, especially because domestic nuclear companies are struggling in the home market to develop their own technology.
Wu Zongxin, a professor at the Institute of Nuclear Energy Technology at Tsinghua University, said there was only a "slim chance" that the nuclear companies would merge at the moment.
"Merging train producers is one thing, consolidating the nuclear power sector is another," said Wu.
"Our high-speed railway technology is mature and safe, and ready for export, but the nuclear industry faces a very different situation with some technical problems unsolved."
China has a high-speed rail network of more than 10,000 kilometers, the longest in the world, but the nuclear industry is still at an early stage of development, he said.
The ongoing merger of the two train producers shows that the government is determined to forge ahead with economic restructuring, but the major nuclear players have different origins and corporate cultures, making it difficult to combine them, experts said.
CSR and CNR have common roots in the China National Railway Locomotive and Rolling Stock Industry Corp, which split into two to promote competition in the sector more than a decade ago.