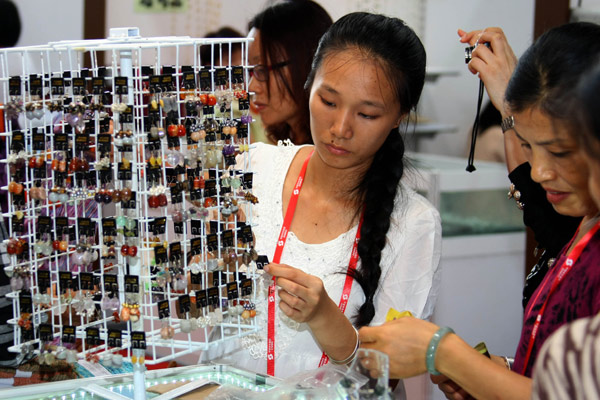 A woman examines jade accessories from Myanmar at an exhibition in Nanning, Guangxi Zhuang autonomous region. [Huo Yan / China Daily]
Xue Hui has been involved in the jade trading business in Southwest China's Yunnan province for 21 years. After quitting his job at a State-owned company in 1993 due to the low income it provided, he thought life would be better for the family trading in jade with Myanmar.
Sharing a border of nearly 2,000 kilometers with Myanmar, Yunnan's location was one of the main reasons for him to choose the business, the 60-year-old said.
"Jade culture is highly valued in both Myanmar and China and the market has kept growing," Xue said.
The trade in jade brings his family about 400,000 to 500,000 yuan ($65,000 to $81,000) annually, when business is good. His 30-year-old son is also involved, and can also speak some Burmese - very useful for the business.
Xue's story is microcosm of the jade trade between Myanmar and China.
China overtook Thailand to become the biggest trading partner of Myanmar during 2011-2012, and has retained the position ever since.
According to Myanmar official statistics, bilateral trade between China and Myanmar was worth $6.62 billion in 2013, 10 times that of 10 years ago, one-quarter of Myanmar's total $23.29 billion in foreign trade.
Myanmar has earned $1.3 billion from the export of jade over the past three years, according to the country's Ministry of National Planning and Economic Development, with China being its leading buyer.
In mid-August this year, Myanmar announced plans to establish a new central economic zone in Muse, a border town in the northern Shan state very close to Ruili in Yunnan province, to boost border trade at what is the most important crossing between the two countries.
The new zone, being established on more than 120 hectares of land at a cost of $51.54 million, comprises 18 buildings including jade trading facilities, shops, hotels, restaurants and housing complexes, according to a project official.
Figures from the country's national planning ministry show that China's investment in Myanmar had reached $14.25 billion across 65 projects as of June 2014, accounting for 30.5 percent of the country's total, making China Myanmar's largest foreign investor.