L Capital Asia, the private equity business sponsored by Moet Hennessy-Louis Vuitton SA (LVMH), has entered into an agreement to acquire a majority equity stake in Singapore-based Crystal Jade Culinary Holdings.
Crystal Jade, a premier diversified food and beverage group, operates 120 outlets, ranging from fine dining to casual and specialty restaurants to bakeries in the Asia Pacific region. The deal will be the third investment by L Capital Asia 2, the second private equity fund launched by L Capital Asia.
Ravi Thakran, man
aging
partner of L Capital Asia, said Crystal Jade is a solid asset with over two decades of brand heritage and market leadership.
"We are confident the company will continue to perform in its core markets while expanding in top global cities, and have already identified a number of landmark sites in Asia and North America," he said.
Media reports revealed that the deal involved $100 million and took up 90 percent of Jade's shares. The move is expected to help Jade expand its presences on the Chinese mainland, where it operates nearly 20 outlets in top-tier cities, according to industry experts.
Bian Jiang, deputy director of the China Cuisine Association, said Crystal Jade's operations in China, targeting mainly business casual dining, has great potential for growth.
"The demand for high-quality Chinese cuisine has been on the rise in the Asian market," Bian said.
Although luxury spending with public funds in China has been curbed as a result of the government's austerity campaign, the high-end dining sector continues to grow, he said.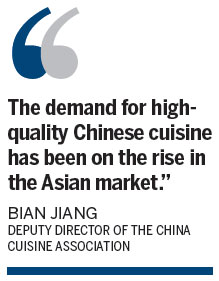 Last year, the catering industry saw revenue of 2.6.trillion yuan ($412 billion), up 9 percent, the lowest growth in two decades. Profit growth for the top 100 restaurants has been the worst in decades, according to the China Cuisine Association.
More than 20 have lost money, and profit growth slowed by more than 63 percent. The investment in Crystal Jade is the second deal involving companies offering Chinese cuisine.
In April, CVC Capital Partners Sicav-FIS SA completed its investment in and became the majority shareholder of South Beauty Investment Co Ltd, a medium and high-end restaurant chain in China.
South Beauty's founder, Zhang Lan, remains an owner and as chairwoman will oversee the company's strategic direction. An Yong stays on as president and executive board director in charge of day-to-day operations.
"CVC's investment will help South Beauty drive greater economies of scale and increase operational efficiency," Zhang said.