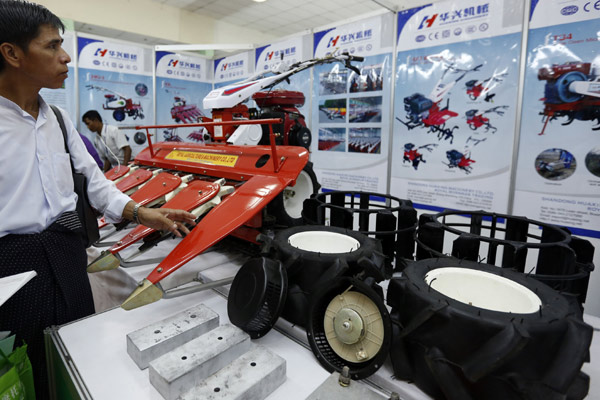 More than 100 Chinese enterprises set up displays at a Sino-Myanmar trade expo in Yangon, Myanmar, in November 2013. [Wu Ang/Xinhua] 
China, Myanmar intend to benefit from each other's strengths, needs
Two countries undergoing reform means opportunities are on the horizon, and any initial challenges will be overcome, Chinese investors in Myanmar said.
In February, GPS Joint Venture, a Chinese-invested company, made history in Myanmar by becoming the first foreign corporate partner of the Ministry of Mines.
"Everything was new for us and the Myanmar government. When we signed the contract, we did not even have a sample contract for reference," said Luo Ruirui, assistant managing director of GPS in Yangon.
Luo said the parent company, based in Sichuan province, has been involved in mining and infrastructure projects in China for a number of years and was able to adapt to challenging conditions.
It has a branch office in Ruili, a city located on the China-Myanmar border, to publicize its work in Myanmar and the benefits it brings to rural communities.
"In some rural areas in Myanmar we had to travel by cart after it rained because the roads had turned to mud and electricity supplies were erratic," she said.
Locating a good place to establish a mine requires a great deal of research, and it took the company four years, from starting the inspection process, to establishing a successful lead mine in Taunggyi in central Myanmar, Luo said.
Liaison officers were sent by both the Mining Ministry and local government to the mining site to make sure there were no communication problems.
"Our technology can make the most use of local ore. We are able to extract lead and gold from used spent ore that was abandoned by other miners. Our advanced technology attracted the Myanmar government's interest.
"Without the government's support, I don't think our company could have achieved what it did," Luo said.
With the development of the project, roads, water wells and telegraph poles have been built and people's lives have improved immensely.
Liu Wei, deputy secretary-general of the Myanmar International Business Promotion Council, said many Chinese investors face similar opportunities and challenges in Myanmar.
"The most important factor for the Myanmar government in evaluating foreign investment is the employment rate. The surplus of labor is a major issue the Myanmar authorities want to resolve," Liu said.
As China is experiencing economic reform and upgrading industries, many Chinese companies may look to set up businesses in neighboring countries.
Economic ties between the countries are strong and growing. China is Myanmar's largest trade partner, its leading source of imports and its second-biggest export market.
By the end of last year, Chinese mainland companies were responsible for $14.37 billion in investments, accounting for 32.5 percent of Myanmar's total overseas investments.
Besides investing in labor-intensive projects, Liu said, Chinese investors should also pay close attention to local economic policies, as well as understanding the importance of reaching out to a different culture.
"It takes time for a foreign company to integrate with local communities, but once Chinese investors and local workers get to know each other better, ties will be even stronger," he added.