China, Myanmar pledge to boost friendship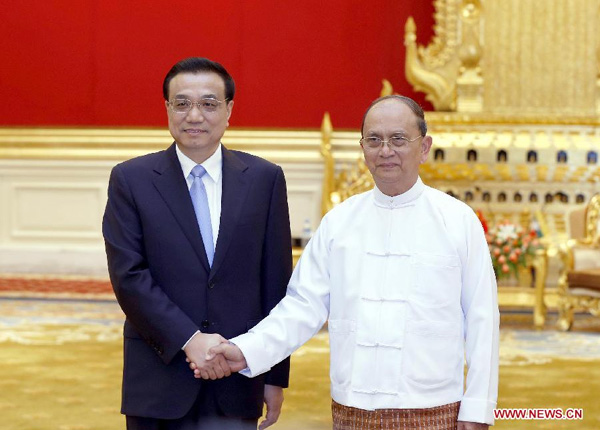 Chinese Premier Li Keqiang (L) holds talks with Myanmar President U Thein Sein in Nay Pyi Taw, Myanmar, Nov 14, 2014. [Photo/Xinhua]
NAY PYI TAW - China and Myanmar on Friday signed a host of deals ranging from trade and agriculture to energy cooperation as the two Asian neighbors vowed to elevate their comprehensive strategic cooperative partnership amid reaffirmed friendship.
Chinese Premier Li Keqiang and Myanmar President U Thein Sein witnessed the signing of the cooperation documents after their meeting in Nay Pyi Taw, Myanmar's capital.
Li, who paid an official visit to the southeast Asian country after attending a series of leaders' meetings on East Asia cooperation, also met with U Shwe Mann, Speaker of Myanmar's Union Parliament and the House of Representatives, and visited a local school where he pledged more scholarships and opportunities for Myanmar students to study in China.
It was the premier's first trip to Myanmar since he took office last year.
Facing profound and complex changes in regional and global situations, China and Myanmar are sharing more common interests in development and security, the two sides agreed in a joint statement.
The document reaffirmed the two countries' willingness to deepen cooperation in a wide range of areas including agriculture, marine economy, finance, interconnectivity, science, technology, environmental protection, society and people-to-people exchanges.
Calling his country and Myanmar "time-honored friendly neighbors," Li suggested while meeting U Thein Sein that the two nations maintain high-level exchanges, give full play to the role of consultative mechanisms between their governments and political parties, enhance strategic communication and deepen political mutual trust.
China stands ready to work with Myanmar to advance the construction of the Bangladesh-China-India-Myanmar Economic Corridor, so as to promote interconnectivity, social and economic development in Myanmar and the region, the premier said.
The two countries should conduct cooperation on large-scale projects and the Chinese government supports its enterprises to participate in Myanmar's infrastructure construction to make sure that more local people could benefit from bilateral cooperation, according to Li.
His proposals were responded actively by the Myanmar side.
U Thein Sein said that his country will support and actively participate in the Bangladesh-China-India-Myanmar Economic Corridor, the Silk Road Economic Belt, the 21st Century Maritime Silk Road and the Asian Infrastructure Investment Bank.
The president also promised to conduct cooperation with China in large-scale projects, increase people-to-people exchanges and promote bilateral ties to a new height.
Myanmar, which holds the rotating chair of the Association of Southeast Asian Nations (ASEAN) this year, is an important investment destination for Chinese companies.
Official data show that bilateral trade reached $10.15 billion in 2013, a tenfold increase over the past decade. The volume grew by 185.1 percent to $17.75 billion from January to September this year.
In his meeting with U Shwe Mann, Li expressed the hope that both sides make joint efforts to propel pragmatic cooperation, enrich the connotation of China-Myanmar friendship and consolidate the public opinion basis of bilateral relations.
Calling China "a reliable friend, neighbor and partner of Myanmar," U Shwe Mann said Li's successful visit to Myanmar is of great significance, and the Myanmar parliament will continue to back and enhance the development of bilateral ties.
Li arrived here Wednesday for a series of leaders' meetings on East Asia cooperation and an official visit to Myanmar. He returned to Beijing on Friday evening.