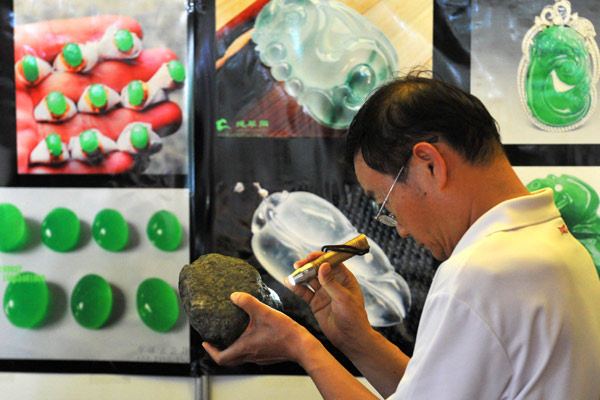 A visitor scrutinizes a jadeite stone from Myanmar at the 2014 Pan-Asia Stone Exhibition in Kunming, Yunnan province, on July 10, 2014. The Bangladesh-China-India-Myanmar Economic Corridor is expected to spark a major expansion in infrastructure development, which will revitalize the economies involved. [Lin Yiguang / Xinhua]
Integration with Myanmar, India, Bangladesh may transform region
Premier Li Keqiang firmed up plans for a landmark regional economic project that has the potential to transform the lives of 440 million people in its catchment area during a meeting with Myanmar's President U Thein Sein in Nay Pyi Taw on Friday.
The Bangladesh-China-India-Myanmar Economic Corridor would also see a major infrastructure drive for the project, which has the potential to revitalize the economies involved. 
"China is willing to work with Myanmar in building the corridor to promote connectivity and regional prosperity," Li said.
The leaders also discussed climate change, agriculture, electric power and the recently established Asian Infrastructure Investment Bank.
Linking India's northeast, Bangladesh, Myanmar and the Chinese province of Yunnan, the corridor will lead to major socioeconomic development and will provide a massive boost to trade in South Asia.
Covering 9 percent of the global landmass, the corridor was first discussed in 1999 by specialists and academics meeting in Kunming, Yunnan province.
The corridor initiative gained momentum during Li's visit to India on May 19.
"India made it clear that it is interested in the BCIM Economic Corridor and willing to take part in it," said Wen Fude, head of the Institute of South Asia Studies at Sichuan University.
Wen also suggested that transport infrastructure should be a priority. And Pravakar Sahoo, a researcher from Delhi University, said the current focus of corridor talks is examining an inter-regional road network.
"The network is planned to run from China's Kunming to Kolkata in India, and link Mandalay in Myanmar and Dhaka and Chittagong in Bangladesh," Sahoo said. "The combined population of India's northeast, Yunnan province, Bangladesh and Myanmar is 440 million. The corridor will allow all four countries to exploit existing trade complementarities."
Sahoo suggested that energy collaboration could result in a rapidly changing economic landscape.
There is strong potential for northeast India to export energy to Bangladesh and China is the largest consumer of energy, while India's engagement with Myanmar will contribute to its energy security, Sahoo said.
Wang Weihua, an observer from the Shanghai Institute for International Studies, said that China should first focus on cooperation with Myanmar and Bangladesh.
"Given India's unclear attitude on whether or not they will allow Chinese investment in the northeast, what we could do now is to concentrate on transport links to improve connectivity with Myanmar and Bangladesh," Wang said.
However, Wang said the benefits of the corridor will be self-evident and the economic advantages of being part of it will lead to wider cooperation.