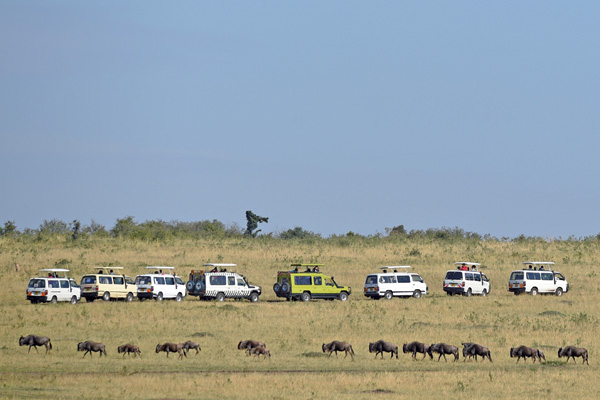 Tour groups observe animal migration in the Maasai Mara National Reserve in Kenya, which takes place from July to October. [Provided to China Daily]
Cultural exchange platforms play vital role in bilateral relations
When Zhang Yuanxiang made his first trip to Kenya, in 1999 to work as an interpreter for a trading company, hotel receptionists asked him if he was from Japan, South Korea, China's Taiwan or Hong Kong regions. He quickly realized that cultural exchanges and communication between Chinese mainland and the East African country were "empty".
"No one even knew where Beijing was," he says.
Conversely, Maasai Mara - the massive game reserve in Kenya's Narok county named after the Masai people - was a difficult, strange name to pronounce for Chinese tourists traveling with him.
At the time, there was little information about Kenya in China, let alone direct flights to the country.
But his experiences during that trip, in which he traveled through the African Savanna, sparked a newfound fondness for the wilderness and for nature in Zhang. He says he remembered feeling that this region of wonders must be seen and experienced by more Chinese people, which eventually led to his creation of Kenya China Travel & Tours Ltd in 2003. KCTT is currently a leading tour company for Chinese tourists to Kenya.
Zhang believes it is essential that tour companies serving Chinese tourists going to Kenya or elsewhere in Africa not only provide a place for travelers to eat, sleep and for sightseeing, but create a cultural exchange platform to experience a region's uniqueness and spirit.
He says a well-rounded tour company is increasingly important as China and Kenya develop their bilateral ties because each nation doesn't fully understand each other culturally.
"Traveling to a new destination like Kenya will give Chinese tourists a chance to explore a new culture, which will be different from their initial impressions of the country. Also, Kenyans can see what Chinese culture is like," says Zhang, who adds that all people involved in this exchange chain are ambassadors for their culture.
KCTT served more than 8,000 Chinese customers last year. Though Zhang is expecting better numbers this year, the Ebola epidemic has hampered tourism to Kenya. Still, he is thankful that his company is moderately successful.
"Despite huge potential, my tourism business couldn't have happened without the help from the Chinese embassy (in Kenya) because it encouraged me to introduce more Chinese tourists to the country," he says. "The business environment and security situation at the time were not that helpful to the tourism industry, so I initially hesitated a lot to start my business."
Tourism in Kenya is an economic pillar in the country, contributing more than 12 percent to the country's annual GDP. China currently supplies 3 percent of the total number of foreign visitors to Kenya.
Between 2003 and 2004, tourism was mainly tuned into and driven by business and official delegations, which packaged Kenya as a complementary destination to Egypt and South Africa.
"It was hard at the beginning," Zhang says in describing the evolution of his company. "I had to talk to all of the hotels and car rental companies by myself to have a clear concept of the Kenyan market. Simply put, all of the old companies had been established for Western tourists, and their experiences were not relevant to us."
After his business began improving, China and Kenya signed an agreement to make Kenya an approved tourist destination, which created more growth potential for Zhang's company. The agreement allowed Chinese tourists to visit Kenya in tour groups organized by commercial companies.