China's service sector will attract more foreign direct investment than other industries over the next decade, according to a report released on Friday.
The 2014 Report on Foreign Investment in China said the development will come as the government opens more market channels for international companies to seek new growth points.
FDI in China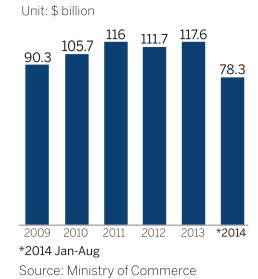 The annual report by the University of International Business and Economics in Beijing said investment on the Chinese mainland by Taiwan dropped by 27 percent year-on-year in 2013.
This indicates that global market demand is changing, and companies in Taiwan are adjusting their industrial development structures, the report said.
Japanese investment in China fell by 4 percent year-on-year as Japan increasingly sought to direct its resources outside China to fuel growth.
Ma Yu, a senior researcher at the Chinese Academy of International Trade and Economic Cooperation, said companies in Japan and Taiwan have found that gaining market share on the Chinese mainland is no longer as easy as it once was.
"Local companies today are quite aggressive in seizing the market after acquiring various technologies through years of development and international cooperation," Ma said.
"Companies from the United States and Europe, eager to diversify their investments, have looked to China's service sector, especially the service outsourcing business."
Foreign direct investment, or FDI, in China reached $117.59 billion in 2013, with service-sector investment rising by 14.15 percent year-on-year to $61.45 billion.
FDI in the manufacturing sector dropped by 6.78 percent to $45.56 billion, according to the Ministry of Commerce.
Service industry areas such as finance, education, healthcare, architectural design, accounting, auditing, commercial logistics and e-commerce will become pillar industries in attracting FDI over the next 10 years, the report said.
Efforts have been made to open up many service sectors by governments at all levels. Foreign companies will be allowed to establish joint venture hospitals with local partners in 2015, while investment from Hong Kong and Macao can be used to run hospitals independently in selected Chinese cities starting next year.