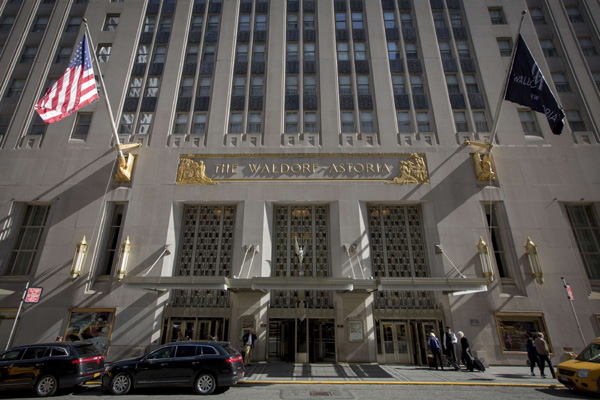 The Waldorf Astoria at 301 Park Avenue in New York. The legendary hotel was sold to a Chinese insurance company, Anbang, for $1.95 billion, one of the highest prices per room ever paid for a US hotel. [Photo/Agencies]
When investors waited in long lines for elevators at the Waldorf Astoria hotel in New York City last month to see Alibaba Group Holding Ltd founder Jack Ma, little did they know that in a few days the Park Avenue landmark would have a new owner, Anbang Insurance Group of China.
"While China continues to attract multinationals to extend their footprint in the world's second-largest economy, an increasing number of Chinese companies and investors are expanding and competing globally," said Sun Baohong, associate dean of global programs at the Cheung Kong Graduate School of Business, a leading Chinese business school with a campus in New York City.
In the second quarter alone, Chinese companies spent $2.1 billion in the United States with more than $10 billion worth of deals pending, according to New York-based Rhodium Group.
"Chinese companies are on a buying spree in the US. We see them in various sectors such as the capital market, commercial real estate, hospitality, manufacturing and the high-tech industry. In Alibaba's case, the shift toward online retail allows businesses to operate without borders," said Sun.
Western companies are clearly mindful of China's evolving role in the global market. Adapting to the trend means seeing China as more than a manufacturing base or a vast consumer market. It means growing organically and having more productive interactions with Chinese counterparts, said Sun.
"More and more companies are not necessarily worried about moving into China, but how to manage to work with the Chinese," said Greg Marchi, chief representative of CKGSB-Americas.
"That's the reason we named our program 'Doing Business With A Changing China'."
CKGSB is hosting the program jointly with Columbia Business School next month in New York.
For three days, 20-plus Western executives, primarily from the US, will take classes with 50 to 60 Chinese CEOs on intercultural management styles and the skills, knowledge and behavior to work effectively in and with China. Past participants include Ma.
"We are hoping that the strong bond built through studying and networking will be maintained once the program ends. When future business opportunities arise for either, the students can explore those together," said Marchi.
The expanding opportunities for multinational corporations in China are growing in complexity, acknowledged Teng Bingsheng, associate dean of CKGSB's European campus.
"The risks at a highly volatile market environment such as China are threefold: industry structural stability, information reliability and law enforceability," Teng said in a webinar hosted by Columbia Business School Executive Education on Monday.
Questions abound, said Teng. "How do we perceive China's economic outlook in the long term, with rising labor costs and the government's anti-corruption campaign, for example?"
The recent corruption investigation into GlaxoSmithKline Plc seemed to bring more sympathy on the Internet for the British drug company, as many lamented China's deficient regulatory systems and some worried if multinationals were being singled out.