China Banking Regulatory Commission promotes banking reform and development
Serving the sound and balanced development of the real economy is one of the objectives of China's banking reforms and restructuring, according to the top regulator of China's banking industry.
Sticking to risk control and scientific development, the China Banking Regulatory Commission has made great contributions to the nation's financial stability and economic development during the past 10 years since its founding.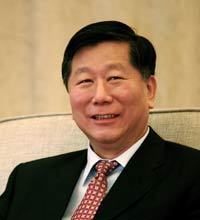 Shang Fulin, Chairman of the China Banking Regulatory Commission.
CBRC Chairman Shang Fulin pointed out that there are five goals for the reform and development of China's banking industry: a system of banking institutions with wide coverage, differential operations and high efficiency; a banking service system responding to market demands and rooted in real economy; an operational and management system with better risk control and efficiency for banks; a stable and prudent regulatory system; and a coordinated financial market system that serves the real economy according to the requirement of socialist market economy.
The banks are required to operate according to market rules and the market plays a decisive role in allocating resources.
To expedite the reform of banks, China set up the banking regulatory commission in 2003, a milestone in the regulation and management of China's banks.
The 10 years since CBRC was launched have witnessed the fast development of Chinese banks. Among the world's top 10 banks today, four are from China.
The CBRC has been exploring ways to form a regulatory system for the banks according to the national conditions in China, and using new policies and mechanisms to encourage the banking industry to better serve the real economy.
China's banking industry has tried out many new concepts and new ideas in the process, which succeeded in maintaining financial stability despite the grave international financial crisis.
Better quality
China's banking industry has not only addressed the risks that had accumulated, it is also changing to effectively control new risks.
The weighted average capital adequacy ratio of Chinese commercial banks was 12.19 percent last year. By the end of last year, only 1 percent of the loans, about 592.1 billion yuan ($96.39 billion), were bad loans. The commercial banks' provision coverage ratio rose from 41.4 percent in 2007 to 282.7 percent last year, which consolidated the financial institutions' ability to resist a financial crisis.
And the net annual profit of the banks and financial institutions rose from 446.7 billion yuan to 1.74 trillion yuan last year. The ratio of return on assets and capital return ratio of commercial banks increased from 0.9 percent and 16.7 percent in 2007 to 1.3 percent and 19.2 percent respectively.
One core function of the banks and other financial institutions is, through market channels, to allocate resources as a lever at comparatively low social transaction costs.
The CBRC has always followed the central authority's lead and strengthened coordination among financial policies, monetary policies and industrial policies, to guide the banking industry so it takes the government's macroeconomic policies into account.
The CBRC has encouraged and guided banks to actively support the development of strategic emerging industries - including advanced manufacturing, environmental protection and energy conservation - designated by the central authority, which are key for China's restructuring and industrial upgrading.
The commission has also encouraged banks to try their best to guarantee sufficient loans to key projects of national importance, as well as big infrastructure projects and government-subsidized housing projects, which are central for sustaining social development and improving people's livelihoods.
A strict control over loans to the industries with over-capacity, and energy-consuming and polluting industries is also effectively promoting environmental protection, energy conservation and green growth.