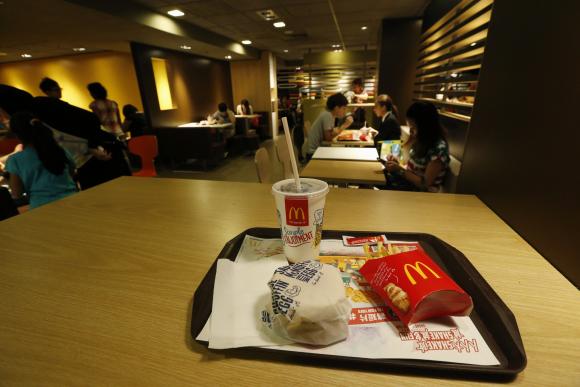 A burger set is displayed at a McDonald's restaurant in Hong Kong in this photo illustration taken July 31, 2014. [Photo/Agencies]
McDonald's was once a regular weekend dining place for Yu Xiaoming's family and not just because her five-year-old son was a big fan of burgers. Yu, as a safety minded mother, was at ease with the iconic American franchise.
In recent weeks, however, such brand loyalty was disrupted by a revelation that Shanghai Husi, a division of US-based OSI Group LLC, had been serving expired meat in mid-July.
"I used to take my son to McDonald's at least once a week although he wanted to go there every day. But now I'd like to wait for a while and see what happens," said Yu, adding that she was shocked when she read media reports about food safety issues in McDonald's and other fast food restaurants she had come to trust.
Yu was not the only one getting hurt.
A Bloomberg report said McDonald's Corp's same-store sales in the Asia, Middle East, and Africa regions dropped 7.3 percent in July from a year earlier, significant evidence of just how badly the meat scandal in China trouble had taken its toll on the country's second-largest fast food chain.
The problem could prove even more devastating over the full month of August. The company gave a warning earlier this week that the food-safety problems were certain to harm profits in Asia and will likely to drag down global numbers for this year.
"We are leveraging our network of suppliers to resume our full menu offerings. Some restaurants will resume offering full menu in early August and some may take a little longer," said Regina Hui, director of communications for the burger giant.
"We apologize to our customers for causing them such concern and inconvenience. Our company, our franchisees and restaurant teams will do everything we can to regain our customers' trust," Hui added.
Many families in China have expressed concerns about food safety in fast-food chains including McDonald's, KFC, Pizza Hut, even after those restaurants cut off using Shanghai Husi as the supplier.
Liu Lu, a mother of a fourth-grade girl, told China Daily that she would not take her family to McDonald's or any other fast-food chain involved in the food scandal.
"We actually never eat chicken at McDonald's, mostly fish. Still, we will not go there any time soon, because we are concerned about the food safety issues in those restaurants," Liu said.
She added that they went to the restaurants once a month and her child even took part in children's birthday parties held at McDonald's twice this year.
McDonald's has started to resume its full menu in some Chinese cities, almost two weeks after the fast-food giant pulled items including beef and chicken amid the Husi scandal.
Shanghai authorities issued a circular on Saturday requiring five restaurant chains – Yum! Brands, McDonald's, Dicos, Burger King and Carl's Jr – to release information about their suppliers on their websites, although officials did not mention specifically that the move was related to the tainted meat scandal case.
Zhao Tingting and Wang Zhuoqiong contributed to the story.