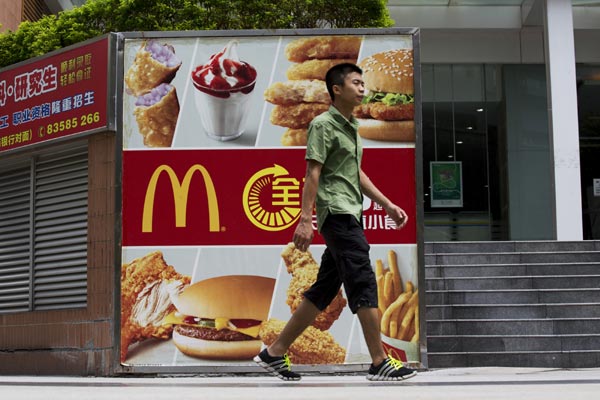 A pedestrian walks past an advertisement for McDonald's Corp in Futian district of Shenzhen. The restaurant chain said that it will resume selling beef and chicken burgers in Beijing and Guangzhou soon. [Photo/Agencies]
McDonald's Corp, working to resume sales of beef and chicken in China this week after a supplier was accused of repackaging old meat, said the situation is hurting its sales in Asia.
"McDonald's businesses in China, Japan and certain other markets are experiencing a significant negative impact to results," the US fast-food company said in a filing on Monday. While McDonald's said it cannot yet estimate the full effect on 2014 earnings, the areas affected make up about 10 percent of consolidated revenue and the company's global same-store sales forecast for the year is "at risk".
McDonald's Japan business posted a 17.4 percent drop in same-store sales in July from a year earlier partly due to the China supplier scandal, according to the company's statement to the Tokyo Stock Exchange on Tuesday, a week after withdrawing its profit forecast because of the case.
The world's largest restaurant chain has been working to limit the damage to its sales and reputation since supplier Shanghai Husi, a division of US-based OSI Group LLC, became the subject of a government investigation into the altering of expiration dates on food last month. Yum Brands Inc has terminated its relationship with OSI globally.
McDonald's Japan is now buying items from Thailand. Previously, the chain was sourcing food from Husi's Hebei plant while transitioning to a new OSI facility in Henan.
McDonald's shares were little changed at $94.31 in New York on Monday.
The stock has dropped about 4.7 percent since news of the OSI investigation became public.
The fast-food chain's Japanese outlets will sell chicken sandwiches again after resuming a full menu at all its stores starting next week, Kokoro Toyama, a spokeswoman at McDonald's Japan business, said on Tuesday.
The global restaurant chain said that it will start selling beef and chicken burgers in Beijing and Guangzhou soon. It is also increasing orders from other existing suppliers in China while exploring new ones.