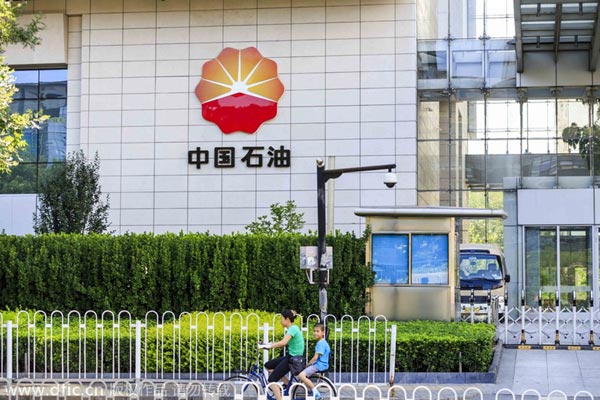 The headquarters building of CNPC (China National Petroleum Corporation), parent company of PetroChina, in Beijing, China, 13 July 2014. [Photo/IC]
China National Petroleum Corp, the country's largest oil and gas producer, said on Monday it has completed a crude export pipeline in Iraq, which will support the company's expansion in the energy-rich country.
The pipeline is the first crude export project of Iraq's postwar reconstruction, which will improve cooperation between China and Iraq in the energy sector.
Iraq is undergoing armed conflict involving the Iraqi government, Kurdish fighters in the north and the Islamic State terror group. The battles have caused damage and losses in the country's oil industry.
United States President Barack Obama said on Saturday that the US is prepared to continue airstrikes in Iraq to protect US diplomats and citizens and others under attack from the terrorists.
The Associated Press reported on Monday that the US is sending weapons directly to the Kurds.
"The battles are still in northern Iraq, which made it possible for the Chinese company to complete the construction of the new pipeline. Otherwise, it would be a huge loss," said Lin Boqiang, director of the China Center for Energy Economics Research at Xiamen University.
He said as long as the battles do not extend to the southern part of Iraq, the pipeline is safe, and it will benefit both the Iraqi government and oil companies. The new project will boost Iraq's crude export capacity significantly, as the existing pipeline from Missan province was built in the 1970s and is running above capacity.
The new pipeline has an annual transportation capacity of 50 million metric tons, and it will help companies to move crude from the Halfaya and Burzugan oilfields in Missan province to the Al-Fao port.
"The completion of the pipeline will be beneficial for raising the production capacity of the two oil projects run by CNPC and the China National Offshore Oil Corp," said Lin.
CNPC operates Halfaya, which is producing 106,000 barrels per day of oil but is targeted to reach 535,000 bpd in six years, according to Platts, an international commodity information provider.
CNOOC, the third-largest oil and gas developer in China, operates the Burzugan field.
Most Chinese companies, including the oil companies, have withdrawn their staff from Iraq over the past few months as fighting intensified. Lin said there is no sign that projects can restart or that companies will return their staffs soon.
The new pipeline is a joint venture between CNPC and CNOOC. It runs for 272 kilometers, according to CNPC.
The China Petroleum Pipeline Bureau, a subsidiary of CNPC and the builder of the pipeline, started construction in April last year. During the construction, the company overcame several obstacles, including mine clearance.