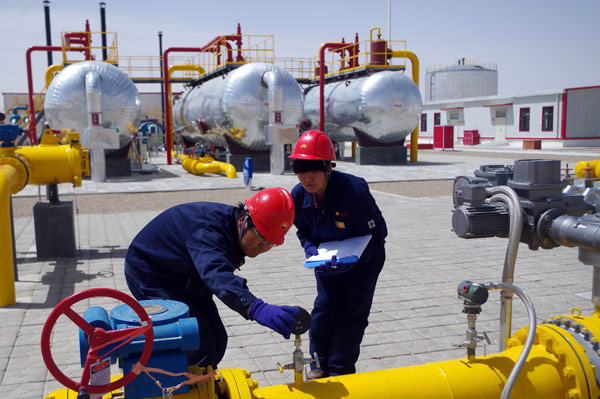 CNPC workers check production facilities at an oil field in Qinghai province. The corporation has appointed five outside directors and established a board, as part of its longterm efforts boost performance and check
corruption
.[Photo / China Daily]
China National Petroleum Corp, the country's largest oil and gas producer, said on Monday that it had appointed five outside directors and established a board, as part of its long-term efforts to boost performance and check corruption.
Meng Jianmin, deputy chief of the State-owned Assets Supervision and Administration Commission, said during a conference on Friday that it was important for State-owned enterprises to form modern boards as it would improve the overall development quality of the companies.
"It helps to realize the transformation of the commission's management on SOEs. The new boards formed with both inside and outside directors will play a much better role in decision making of the company," Meng said.
CNPC's board now has eight members including Zhou Jiping, the CNPC chairman and Liao Yongyuan, the company's general manager as inside directors. Wang Shihong is the worker director and the rest are outside directors.
"The combination of inside and outside directors will form the core of CNPC's strategy center, and ensure that the company presses ahead with reform and innovation," Meng said.
Zhou said the board moves will step up the company's corporatization and internationalization process.
Lin Boqiang, director of the China Center for Energy Economic Research at Xiamen University, said setting up regulated boards is a part of the SOE reforms, and something that will come in handy for future development.
"It takes a while to get used to the new system, but there is no difficulty for CNPC since it has many years of operational experience in the international capital market," he said.
"The only thing that the CNPC has to do is to let the board really play its role," Lin said. "It should not be just a gesture."
China's energy industry has been facing a series of anti-corruption investigations and many officials from both SOEs and the government are under scrutiny. Jiang Jiemin, former CNPC chairman and at least six other high-ranking officials are being investigated for corruption-related charges.
Zhou said during Friday's conference that the company will continue to fight corruption.
The National Audit Office announced on Friday that CNPC had accounting errors that led to the group under-reporting some 603 million yuan ($96.95 million) in profit after review of the company's 2012 financial results. The accounting errors were discovered in contracts with a total value of 26 billion yuan.