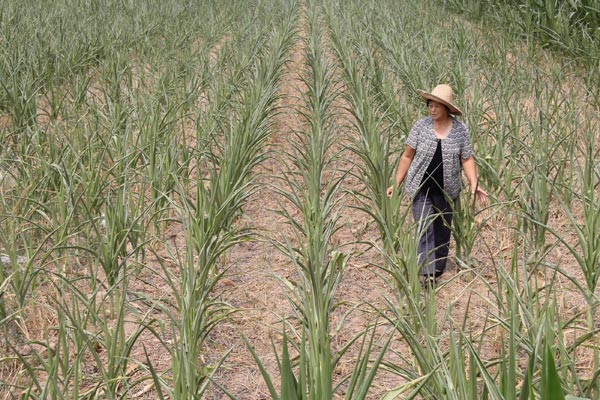 A farmer walks through her drought-stricken cornfield at a village in Henan province. [Photo/China Daily]
Severe, widespread drought in major producing provinces fuels negative outlook for 2014 harvest
China's corn futures prices rocketed amid a negative outlook for the harvest in 2014, after widespread drought hit major producing areas in the country.
Contracts for corn that deliver in September 2014 rocketed to 2,547 yuan ($412.19) per metric ton on Monday, the highest since 2011. Contracts for corn that deliver in January 2015 jumped to 2,389 yuan per metric ton, up 102 yuan in two weeks, according to data from the Dalian Commodity Exchange, China's major futures exchange for agricultural products.
According to the Ministry of Agriculture, precipitation in June for Henan, Shaanxi and Hubei provinces dropped to its lowest level since 1960, severely affecting nearly 1 million hectares of farmland.
A total of 4 million hectares of farmland across China is threatened by the widespread drought, reported Xinhua News Agency.
Analysts and market insiders said the drought may affect spot and futures prices of various agricultural products that are sensitive to rainfall, and prices may rise further if the drought does not end soon.
"Henan province, whose summer harvested corn contributes some 30 percent of the country's output, has been battling against drought for weeks, and if the drought does not ease in the short term, it may affect the province's harvest in the second half and have a long-term influence on the corn futures price," said a research note from Industrial Futures Co Ltd.
Henan province's precipitation since the start of summer was only 96 mm, 60 percent less than the province's summer average, and the lowest since 1951, reported Henan Daily.
As the drought may last through this month, as weather forecasts suggest, corn prices may remain high until the drought ends and the summer harvest is completed, the research note said.
The auction price of State reserve corn in late July was up 12 yuan per metric ton over the previous week, showing stronger sentiments for long-position, according to a research note from Wanda Futures Co.
Widespread drought has also pushed up futures prices of soybean, wheat and cotton in recent trading days, according to data of Dalian Commodity Exchange and Zhenzhou Commodity Exchange on Monday.
National authorities have already allocated resources to provinces to battle against the drought, reported Xinhua News Agency.