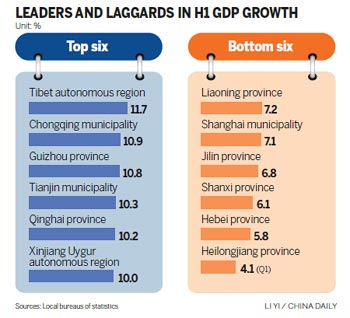 Former industrial pioneer is now facing multiple challenges as growth falters
Premier Li Keqiang made proposals on Thursday to remove barriers to the development of the pioneer of the nation's industrialization in the 1950s to the 1970s, a broad area of Northeast China that covers Liaoning, Jilin and Heilongjiang provinces and an eastern section of Inner Mongolia autonomous region.
Part of Li's plan involves the further opening of the region to neighboring countries.
"Currently, we have to concentrate our energy on implementing several major tasks that serve multiple ends and make every effort to unlock the puzzle to the development of the northeast," Li said at a meeting of the State Council (cabinet) that was held to discuss the issue.
The central government decided in 2003 to revive industrial bases there. The area amounts to roughly one-seventh of China's total territory.
Li said the strategy has brought evident benefits in the past decade, but the economy in that part of China "is facing new challenges".
He added: "The economic growth rate there has kept falling since last year, and operations in some sectors are difficult." He noted that some deep-rooted contradictions are emerging.
Some 30 provincial-level regions have reported GDP figures for the first half. And 23 of them saw economic growth pick up in the second quarter, while two provinces were level and five provinces reported a slowdown.
Liaoning and Jilin were among the five provinces with slowing growth. Heilongjiang has yet to report its figures.
Growth rates in Liaoning and Jilin in the first half hit 7.2 percent and 6.8 percent, respectively, both below the national rate of 7.4 percent.
Li's prescription for the development of the northeast includes streamlining administration to stimulate the market.
He also proposed major infrastructure projects such as upgrading the massive railway network. The region has one of the densest railway networks in the nation, but much of it was built decades ago.
Other suggestions include more agricultural modernization in the richest soil in China and updating the region's advantage in equipment manufacturing.
Li was the Party chief of Liaoning province from 2004 to 2007.
Northeast China has attracted great attention from Beijing this year. President Xi Jinping and Li made several inspection trips there, and Xi offered proposals in July to speed up the area's revitalization.
Chiefs of the four provincial governments among other high-level officials attended Thursday's meeting.
Gao Guoli, deputy director of the Research Institute of Territorial Development and Regional Economics under the National Development and Reform Commission, said most companies in the area are State-owned enterprises. They respond "rather slowly" to the market compared with private companies in coastal areas.