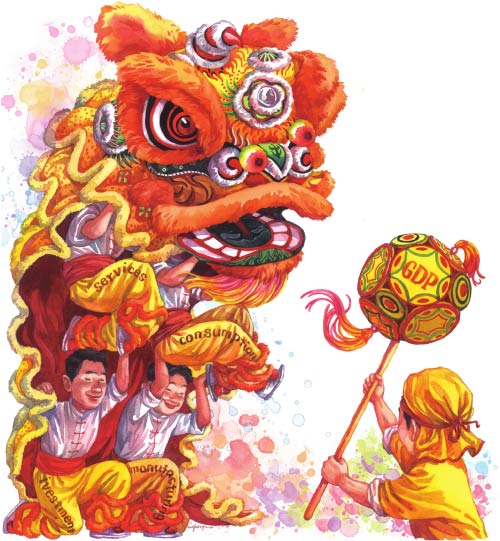 LI MIN/CHINA DAILY
Healthy growth in services brings new momentum to economic restructuring
Is the economy at last turning? The Chinese government's policies to rebalance the economy seem to be bearing some fruit at last.
The latest economic data published by the National Bureau of Statistics on July 16 suggest China is moving to a more service-based economy that is less reliant on exporting cheap manufactured goods.
On the expenditure side of national income, consumption also continued to play a stronger role, contributing the largest share of GDP growth.
Achieving such shifts was the central aim of both the current 12th Five-Year Plan (2011-15) and last year's Third Plenum meeting-setting the economic course for the next 10 years.
In the second quarter of this year, services accounted for 48.9 percent of GDP growth, compared with 47.1 percent for the secondary sector, mainly comprised of manufacturing.
This represented a complete turnaround from the second quarter of 2012, when services accounted for just 42.7 percent of growth with the lion's share (53 percent) fueled by the secondary sector.
Consumption also accounted for more than half of GDP growth for the second quarter in a row. It made up 54.4 percent, compared with 48.5 percent for investment, while net exports made a negative 2.9 percent contribution. Although the figure for consumption was down from the 64.9 percent in the first quarter, it could still provide evidence of a continued rebalancing.
The picture certainly appears better than last year when investment actually increased as a share of GDP from 45.7 percent in 2012 to 45.9 percent, mainly as a result of the mid-year mini stimulus for targeted infrastructure projects. Consumption also increased only marginally last year from 49.5 to 49.8 percent.
Central to the government's rebalancing strategy are initiatives such as the Shanghai Free Trade Zone, launched last year and at the vanguard of China's financial reforms.
Other moves involve setting up a better social security and health-care system so people become less reliant on having to save and can therefore consume more.
A major reform also involves the hukou, or household registration system, giving greater rights to migrant workers and their families to settle in cities and become consuming citizens.
Underpinning the reforms also is a change in mindset, with the government already demonstrating that it is less inclined to embark on major infrastructure projects just to maintain GDP growth at artificially high levels.