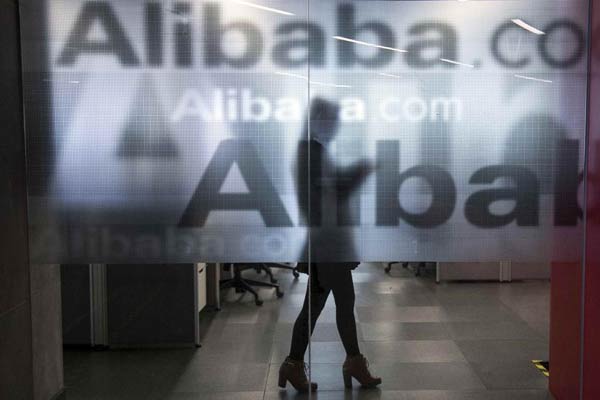 An employee is seen behind a glass wall with the logo of Alibaba at the company's headquarters on the outskirts of Hangzhou, Zhejiang province, April 23, 2014. [Photo/Agencies]
Alibaba Group Holding Ltd teamed up with seven banks on Tuesday, jointly offering loans of up to 10 million yuan ($1.6 million) to China's small and medium-sized enterprises as the e-commerce conglomerate looks to further build a credit rating system based on online transaction histories.
The cooperation involves Bank of China Ltd, China Construction Bank Corp, Ping An Bank Co Ltd, China Merchants Bank Co Ltd, Bank of Shanghai Co Ltd, Postal Savings Bank of China Co Ltd and Industrial Bank Co Ltd.
According to the Hangzhou-based e-commerce giant, companies that had export transactions of more than $100,000 through Alibaba's online platforms over the past six months can apply for such loans. They can get 1 yuan worth of bank credit for every $1 in exports.
The online transaction record is the only thing required for the loan.
Wu Minzhi, vice-president of Alibaba Group, said that about 89 percent of SMEs in China find it difficult to get loans because they can not satisfy banks' requirements.
"As an e-commerce company with lots of transaction data on our platforms, we want to make it easy for all of the export-focused companies to do business," Wu said.
By narrowing the credit gap between SMEs and banks, Alibaba is looking at the bigger picture of building an environment based on big data that can facilitate every aspect of trade, from information to data and logistics, he said.
Wei Qiang, general manager of Shenzhen One Touch Business Services Co Ltd, Alibaba's export service subsidiary, said that more than half of the export-focused companies are expected to move their brick-and-mortar trade business to online platforms in the next 10 years.
"That will create a trade service market that is estimated to be as big as 10 trillion yuan," he said.
As they cope with rising production costs in China, many Chinese exporters are keen to get financing services. He Guodong, manager of Shenzhen Xingjisheng Electronics Co Ltd, said he secured a loan of 5 million yuan from China Construction Bank through the financing service offered by Alibaba.
"My company had an export volume of 260 million yuan in 2013. In the past, banks rarely lent to us, because they didn't trust the financial data we offered," he said. He said transaction records provided by Alibaba are very convincing, as it acts as the third party for such transactions.
Li Ye, an analyst at the Internet consultancy Analysys International, said traditional banks can actually benefit from the financing service provided by Alibaba.
"The costs for banks to do due diligence in order to grant loans to SMEs are very high. There are so many SMEs and the amounts they want to borrow aren't much compared with big enterprises. So big data can be used as an important way for banks to control credit risks without making heavy investments," she said.