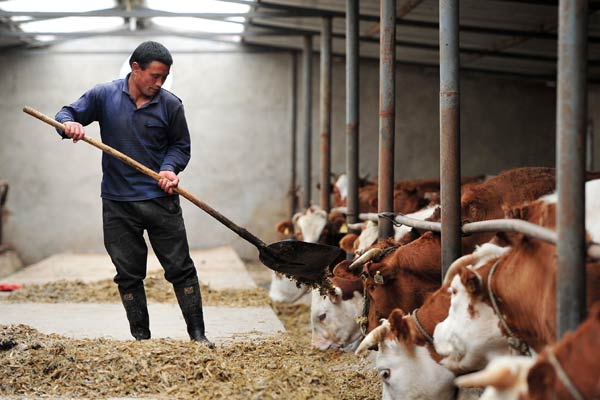 A worker feeds cattle at a farm in Jingyuan county in the Ningxia Hui autonomous region. China's beef production is expected to reach 7.86 million metric tons by 2020. [Photo/Xinhua]
Beef imports to China are likely to double by 2018, Rabobank Group said in a report on Wednesday.
Pan Chenjun, a senior analyst at the bank, said domestic beef output is declining at the same time as there's a growing demand for high-protein food in China.
"The domestic beef industry is lagging behind all major beef-producing countries in terms of breeding, productivity, farm management, grassland and feed resources and other key aspects," said Pan. "In other words, China will still need to rely on beef imports."
China, the world's biggest meat consumer, became a huge beef importer in 2013 as inward shipments almost quadrupled year-on-year to about 300,000 metric tons, according to the bank.
The bank has forecast annual import growth of 15 to 20 percent in the next five years, although the actual volume of imports may actually be double the official figures because of widespread smuggling.
"Cattle farmers are shifting to other agribusinesses due to a lack of government support and the large amounts of time and money required to raise cattle," Pan said. "Major players are facing the dilemma of where to source beef supplies."
To boost domestic output, China has increased support to the beef industry, but not enough to fill the gap between demand and supply.
The country aims to increase production from 6.3 million tons in 2013 to 7.17 million tons in 2015 and 7.86 million tons in 2020, according to the report.
There are also signs that China is changing its stance on beef imports. Pan said China is likely to lift the mad cow-related ban on Brazilian beef within the year and allow US beef imports in the next two years.
Australia, which is China's top supplier with about 52 percent of total imports during the first five months of the year, faces declining output because of a serious drought.